A WORD FOR TODAY 4 JULY 2019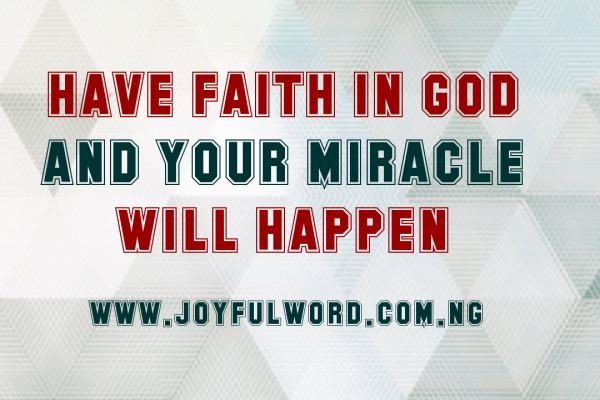 A WORD FOR TODAY
We have a wonderful story in the first reading of today that teaches a lot about how our obedience and faith commitment to God will bring us blessings from on high. Abraham was instructed by God to offer his son Isaac as a burnt offering to Him and he obeyed and it was counted to him as righteousness.
Abraham had faith in God and trusted Him to the point that he was ready to sacrifice his only son whom he loved so dearly. He was willing to give back to God what He gave to Him without looking back. This is the kind of faith we should possess if we intend to receive blessings from God. The reward of obedience is always greater than what it cost us to obey.
Our faith will make us believe that God can do all things and that He will help us if we call upon Him and put our trust in Him. We must raise our faith level if we intend to be servants of God and if we are going to be used by Him to do great things in this life.
We also see in the gospel reading of today how Jesus seeing the faith of the the people that brought to him the paralytic, He responded by forgiving his sins and also made him to rise up and walk again. We can come before the Lord wounded and down, but if we do not have faith it will be difficult for us to find healing and restoration.
Jesus has the power to forgive our sins and to make us well again both physically and spiritually, we only need to come to Him with faith and what we seek we shall find. Miracles do happen to a person who has faith. Therefore, as you seek the face of the Lord today, come with faith and you will surely receive His blessings.
Good morning dearest one. Smile😊as you do your work and do have a wonderful day. May Jesus bring your healing and restoration as you place your trust in Him. Amen. *And may the Almighty God bless you: the Father and the Son and the Holy Spirit. Amen.
Meditation:* Genesis 22:1-19/Psalm 116:1-6,8-9/ _Matthew 9:1-8
Watch-Word:* Faith in God makes miracle possible.
Give God your best and He will give you His best in return. Never refuse to give to God because He has everything you need to be happy.