A WORD FOR TODAY 15 SEPTEMBER 2023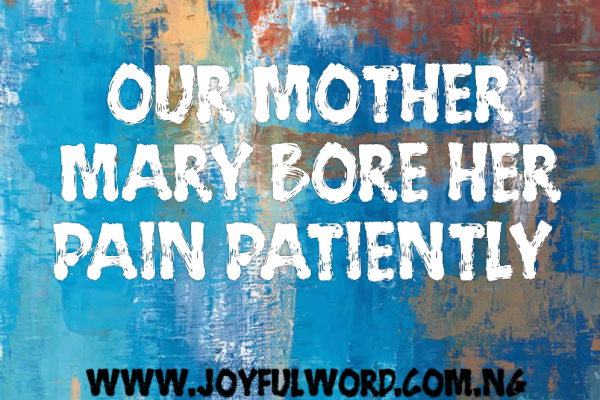 https://www.instagram.com/reel/CxMDXtpoKs5/?igshid=MzRlODBiNWFlZA==
*A WORD FOR TODAY*
*SHE BORE HER PAIN PATIENTLY*
_"When Jesus saw his mother, and the disciple whom he loved standing near, he said to his mother, Woman, behold, your son! Then he said to the disciple, Behold, your mother!"(John 19:26-27)_
_*Today we celebrate the memorial of Our Lady of Sorrows. The devotion to our lady of Sorrows flourished in the middle ages, and the hymn Stabat Mater was composed for it. It is officially celebrated today, the day after the feast of the Exaltation of the Holy Cross, because Mary had her own share of pain in bearing her own cross.*_
_Different things that happened in the life of our mother Mary showed that she bore a lot of pain in her heart and endured patiently her suffering for the sake of the one who has called her and given her a mission._
_*No one will be happy seeing his or her son or daughter suffer and die. Mary saw Jesus tortured to death on the cross and that really was part of the sword that Simeon prophesied that will pierce her heart at the presentation of the child Jesus in the temple.*_
The seven sorrows of Mary include:
*The Prophecy of Simeon and Anna
*The Flight into Egypt.
*The Loss of the Child Jesus.
*The Condemnation of Jesus
*The Crucifixion of Jesus
*The Retrieval of Jesus' Body.
*The Burial of Jesus.
_*Our Mother Mary should be a good companion to us as we carry our cross, bear our pain and journey towards heaven. It is never an easy journey. It is one filled with lots of pain and sorrow, but the joy that will come in the end is great. She knew what pain is and she can help us with her maternal care and intercession to cope with our pain too.*_
_At the cross, Jesus presented her to us as the one to accompany us and take care of us when He instructed the disciple whom he loved to behold her as mother and instructed her to behold him as son. We must come to Mary through our prayers and devotion and we will receive grace to be able to navigate through the storms of life and challenges that will come to us as we follow Christ._
_*Are you in pain, sorrow and any kind of trouble? Are you worried and passing through difficulties? Make our Mother Mary your companion today, call upon her through your Rosary and she will accompany you with her grace, lead you to Jesus and obtain for you through her intercession the things that you seek.*_
_Good morning dearest one. Smile😊as you do your work and do have a beautiful day. May the intercession of our mother Mary work for you. Amen. *And may the Almighty God bless you: the Father and the Son and the Holy Spirit. Amen.*_
*Meditation:* 1 Timothy 1:1-1, 12-14/Psalm 16:1-2,5-8,11/John 19:25-27
*Watch-Word:* O Mary conceived without sin, pray for us who have recourse to you.
_*Mary is the comforter of the afflicted, come to her and she will take you to Jesus from whom you will find the help you seek.*_
(Friday of the Twenty third week in the ordinary time. Memorial of Our Lady of Sorrows)
*©ï¸ Rev. Fr. Augustine Eleke*