ACCEPT AND SUBMIT TO THE WORD WHICH HAS BEEN PLANTED IN YOU(Colossians 3:12-17/Psalm 150:1-6/Luke 6:27-38)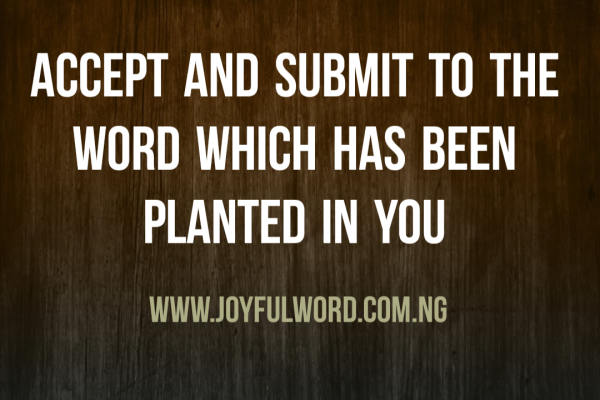 ACCEPT AND SUBMIT TO THE WORD WHICH HAS BEEN PLANTED IN YOU
(THURSDAY, SEPTEMBER 12, 2019
THE MEMORIAL OF THE MOST HOLY NAME OF MARY)

The readings of today emphasize God's love for us and His forgiveness while charging us with the responsibility to do the same.
In the first reading, Paul is encouraging people to show both compassion and gratitude.
He points out that we as chosen ones who are so loved by God have an obligation to pass this love and compassion on to others. It means we must forgive just as the Lord as forgiven us. In the Lord's Prayer, we ask that we be forgiven our trespasses as we forgive others. The forgiveness is not just for us to receive but for us to give as well. How readily do we ask to be forgiven and then how we can hold resentment against others for their actions against us? How can we expect mercy and compassion if we not willing to give it as freely as we expect it?
St. Paul proclaims today saying "And whatever you do, in word or in deed, do everything in the name of the Lord Jesus, giving thanks to God the Father through Him.
We have to do everything for the greater glory of God.
Love is all you need." St. Paul tells us that we need to love others as Christ loved us. We need to forgive them and love them. The best way to follow Christ is to love one another. Jesus loved us and forgave us and died for us. To follow Him, we need to love each other completely.
If we love each other and treat each other decently, act out of love, everything will work out. And wouldn't this world be a better place if everyone followed this advice? Every day, all around us we see people not loving each other. The news is full of political unrest, people killing each other, people stealing, cheating. Divorce is rampant, families are breaking apart. It often seems that people can really be very selfish.
They focus on their own desires to the detriment of everyone else. If everyone treated each other with love, there would be no war, no murder, no violence, no theft: no crime.
The psalm tells us that everything that breathes should praise the Lord. Everyone and everything should love God and love all God's creation.
The best way to love God is to love God's creation, and that includes other people. If people acted out of love toward all creation, there might be more peace and tranquility in our families and human society in general. Loving God and praising God definitely includes loving and protecting all God's creation.
This all seems pretty inclusive, but in the Gospel, Jesus takes it a step farther. What could be a step farther than loving all creation? Really loving all creation. Loving even the seemingly unlovable. Loving people who are not merely seemingly unlovable, but people who are actively not loving us. Jesus says it's easy enough to love those who love us. It's harder to love those who don't.
But that's more of a challenge, and that's really loving the way Christ loved. It's not enough to just love those who love us.
If we love and forgive others, regardless of how they treat us, we will be loved and forgiven and God's love is brought to perfection in us and in the end, the love we take is equal to the love we make." If we love one another, God remains in us.
Let Us Pray: Lord Jesus, give me grace to do good always and to be a blessing to others as you are to me. Amen.