ANYONE WHO FOLLOWS ME WILL HAVE THE LIGHT OF LIFE, SAYS THE LORD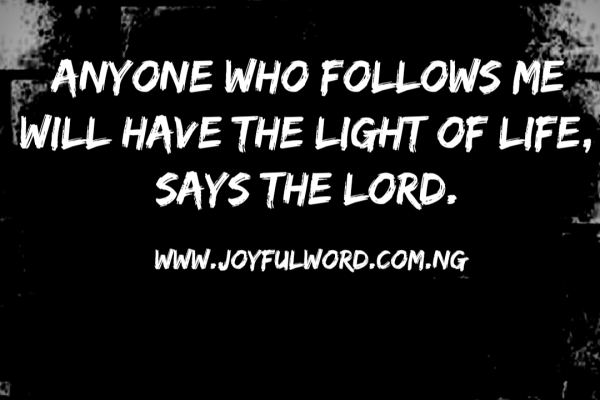 ANYONE WHO FOLLOWS ME WILL HAVE THE LIGHT OF LIFE, SAYS THE LORD
(FRIDAY, SEPTEMBER O6, 2019)

In today's gospel, the scribes and Pharisees seem to think that Jesus' disciples are less spiritual somehow because instead of fasting and praying, they seem to be feasting all the time. And Jesus says that they should be feasting. This is the right time to feast. It's appropriate to feast when the bridegroom is here. When the groom is taken away, then the time will be right for mourning and fasting and tears, but while the groom is present, what better to do than to feast? A wedding party is no time for tears and fasting. It's the right time for celebration and hope. There is a time for everything, and the wedding is not the time for sadness but for joy. Jesus knows that His followers should enjoy His presence while he is with them.
The scribes and Pharisees question the fact that the disciples of Jesus act differently than those of John the Baptist, but Jesus indicates that the question is not what their correct manner of life should be but rather how they are responding to God. This is rather a flashback of what Paul says about the diversity of gifts and offices in I Corinthians 12 or even what Ecclesiastes has to say in chapter 3 about a time for everything.
Jesus goes on to say, never should a new cloth be made to patch a tear on an old cloth. When the new cloth shrinks, it will worsen the tear. Also, new wine in old wineskin is bad. When new wine ages it expands and will burst open the old wineskin. Jesus gradually introduced Himself to the Jews. He knew that although His teachings were, in essence, the same as what His Father had given to Abraham, Jacob, Isaac, and Moses, it will come across as something new to them.
A lot had changed and been added to the original commandments. Jesus was patient with the Jews, their elders, and religious leaders. His words and deeds slowly unfolded His true person. It was traumatic for the religious leaders who were so rigid and closed their minds to Jesus' revelation. For them, their tear worsened and their wineskins exploded. For most of the disciples, they endured and were able to adjust to the "new" teachings of Jesus.
New wine must be poured into fresh wineskins" Why? Because, as our first reading says, "All the fullness was pleased to dwell and through Him to reconcile all things for Him" (Colossians 1:19-20). Therefore, to embrace the teaching of Christ, we have to empty those things which seem to be an old win in us so as to receive the new win which will transform us, renew us and make us better Christians.
Let Us Pray: Lord Jesus, help me to live my life in accordance with your law and may your grace be enough for me. Amen.