ATTEND TO THE SOUND OF OUR CRY LORD (Esther 14:1,3-4,11,13-14/Psalm 138:1-3,7-8/Matthew 7:7-12)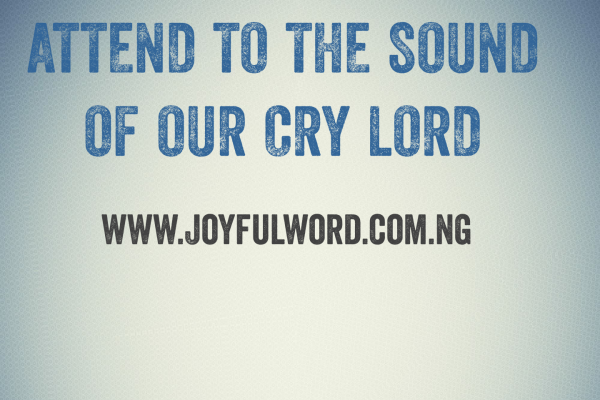 ATTEND TO THE SOUND OF OUR CRY LORD
(Thursday March 14, 2019)
Today's liturgy presents us with the importance of prayer and the need for making our prayer known to God. Even though God knows us through and through and our problems before we come to Him. That notwithstanding, we have to present our petitions before Him with a simplicity of heart and faith.
After the presentation of our petitions, we have to wait on God with patience and perseverance. We can now see that faith, patience and perseverance are very important in our prayer life. We pray and wait. God may take His time to answer us but let us not forget that He always has a good plan for us whether He answers immediately, or say wait or even say NO. His NO also means a lot which at times we may not fully understand.
Today Christ encouraged us to ask, seek and knock because Our Heavenly Father is a loving and merciful Father who always wants us to come closer to Him through prayer. Is there any other way we can approach God if not through prayer? The word of Christ today is indeed a package of assurance that says "Ask, and it will be given to you; search, and you will find; knock, and the door will be opened to you. For the one who asks always receives; the one who searches always finds; the one who knocks will always have the door opened to him"
If Christ has given us this option, what are we waiting for in coming closer to God. The Church, building her faith in these words of Christ urges us during this holy season to pray and make reparation for our sins. We can see this clearly in the first reading of today in the prayer of Queen Esther. Queen Esther has a pressing need disturbing her peace of mind and she has no other alternative than to seek the face of God with the faith that God is ready to hear her out.
Esther built her faith based on the wonders the Lord has done to her ancestors of old. Esther in her prayer said "My Lord, our King, the only one, come to my help, for I am alone and have no helper but you and am about to take my life in my hands" Let us always cultivate the spirit of gratitude and appreciation whenever our prayer is answered.
Let us imitate the Psalmist today who gives thanks to God for answering His prayer. He says "On the day I called, you answered me, O Lord. I thank you, Lord, with all my heart: you have heard the words of my mouth. In the presence of the angels, I will bless you. I will adore before your holy temple. On the day I called, you answered me, O Lord. I thank you for your faithfulness and love, which excel all we ever knew of you. You increased the strength of my soul. You stretch out your hand and save me, your hand will do all things for me. Your love, O Lord, is eternal, discard not the work of your hands.
The ball is now in our court let us make use of this holy season the Church has offered us to establish a lasting communion and relationship with God through prayer.
Let Us Pray: Lord Jesus, give me the grace to pray in a manner that will be pleasing to you and May you answer me when I call and grant me your blessings. Amen.