BE WITH US O LORD IN OUR DISTRESS (Deuterenomy 26:4-10/Psalm 91:1-2,10-15/Romans 10:8-13/Luke 4:1-13)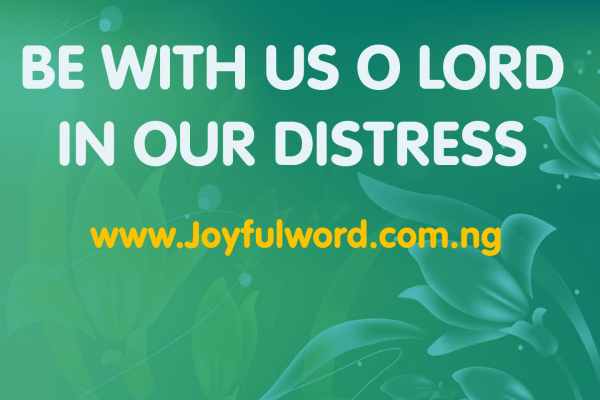 BE WITH US LORD IN OUR DISTRESS
(Sunday March 10, 2019 FIRST SUNDAY OF Lent)
The Liturgy of today offers us three typical elements, to live profitably, the Lenten penance: that is thanksgiving, profession of faith and purification through the Word. In the gospel, we see the spiritual battle dramatically portrayed on this First Sunday of Lent, as we hear about the devil tempting Jesus. He faces Satan head-on.
The Gospel passage of Luke shows us the clash between the two protagonists of the drama; Jesus and the devil. This drama will reach its climax on Good Friday when Christ will eventually win the battle through His Passion, death and Resurrection. Whenever we give in to temptation, it takes power from us. But the opposite also applies: when we resist a temptation, we take power from it.
The devil wants to rob us of power, to make us impotent. The Lord wants to make us strong by resisting temptation. The more strength, the more power we have, the more we have to offer to God through Jesus. The gospel indeed wants to present to us that Jesus is a model for all Christians and a reference point especially when we are facing all sorts of temptations in our Christian lives. Jesus fasted in the desert and overcame the devil's temptations. Jesus never sinned but in the desert, He was tempted. During these forty days of Lent, we remember Jesus in the desert as we try to overcome temptation in our lives and to overcome sinfulness.
Lent is an invitation to us to take the courageous step of "going into the desert" and not hiding from what lies hidden deep within us. Lent is a time to put our souls before a mirror and see ourselves as we really are. Lent is an invitation to allow our sin and darkness and wounds come to the surface so that we can deal with them and allow them to be healed by the grace of God. During these forty days of Lent, we do not hide from our sinfulness or prevent God from speaking to us or healing us. It is only when we admit something that we can deal with it.
The first stage in overcoming anything is to admit the problem. If we remain in denial, we miss out on the grace of God to heal us and renew us and make us whole. During Lent, we say no to the devil's temptations to continue committing sin, and instead, we trust in our heavenly Father like Jesus in the desert. The words of Jesus can be our words during this Lent, "Man does not live on bread alone but on every word that comes from the mouth of God." (Matt 4:4).
Lent is a time for more prayer. It is true we live busy lives, much more occupied with many things worrying and occupying our interests. We live in a world where there is much emphasis on enjoying life but a life without prayer is a life without the joy of the presence of God. If we do not make prayer our priority, we give the devil the opportunity to use us as he wants. Fasting is a penance the Church encourages us to undertake during Lent. From the spiritual point of view, fasting symbolizes our dependence on God. It expresses the fact that we are trying to put God first in our life. The Bible tells us that fasting from food must go together with fasting from violence, fasting from oppressing people (Isa 58:3-12), fasting from bad habits and sin.
In other words, when we fast from food it is to be accompanied by a loving and forgiving attitude towards others. We could say that fasting from food in itself is not what is important, it is what the fasting symbolizes that really matters. To fast in a way that is genuinely pleasing to God, we must make an effort to forgive those who have offended us and not to harbour resentment any longer.
The first reading of today, taking from the book of Deuteronomy (Deut. 26, 4-10) recalls how God saved His people from the hands of Pharaoh and the Egyptians despite all the maltreatment they received in that land of slavery. This is a practical manifestation that God is always with us and very close to us especially when we are facing the other side of life. He shows that He is our refuge when we find ourselves at the crossroads. But then, we have to place our trust in Him as a little child does in the hands of his/her parents knowing that God cannot and will never allow us to be put to shame when we are battling with the devil, our constant enemy of progress.
The period of Lent is indeed a time of prayer and we have to make out time to be with the Lord during this period because it is through prayer that we overcome the devil and all his tricks. As Moses said in the first reading "The Lord heard our voice and saw our misery, our toil and our oppression, and brought us out of Egypt with Mighty hand and outstretched arm with great terror, and with signs and wonders". Here we can see that the people cried to the Lord in prayer and the Lord heard them and came to their aid.
The responsorial psalm in the same line of prayer said "Be with us O Lord in our distress. Yes, the Lord is always with us whenever we make ourselves available to Him through prayer. The Psalmist presents us with a wonderful prayer on how God gives us protection in time of distress and danger. "Upon you, no evil shall fall, no plague approach where you dwell. He has commanded His angels to keep you in all your ways. They shall bear you upon their hands lest you strike your foot against a stone. On the lion and viper, you will tread and trample the young lion and the dragon"
In the second reading, Saint Paul, in his letter to the Romans (Rom 10: 8-13), says "if you proclaim with your mouth; that Jesus is the Lord, and with your heart, you believe that God has raised him from the dead, you will be saved. St. Paul continues by saying that "Those who believe in Him will have no cause for shame, for anyone who calls on the name of the Lord will be saved" Let us then place our trust in the Lord and continue to proclaim Hus name so that He will help us overcome our challenges.
Let Us Pray: Lord Jesus, you conquered your temptation in the desert. Help me to stay close to you always so that by your power I will overcome my own temptations. Amen.