BLESSED ARE THOSE WHO HAVE NOT SEEN AND YET BELIEVE(Ephesians 2:19-22/Psalm 117:1,2/John 20:24-29)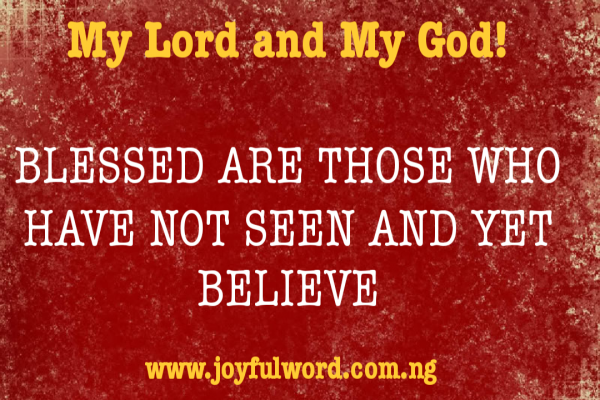 BLESSED ARE THOSE WHO HAVE NOT SEEN AND YET BELIEVE
(Wednesday, July 03, 2019 The Feast of Saint Thomas, Apostle)
St. Thomas the Apostle is remembered primarily for two things: that he was the one who did not believe in the Resurrection when he was told about the appearance of Christ to the other Apostles, and secondly, he was known for his effort in bringing Christianity to India. So far as we know, none of the Apostles believed before seeing Jesus except St. John who saw the empty tomb and believed. It is simply that the doubts of St. Thomas are recorded in such a powerful fashion as we read today.
He immediately believed when he saw Christ. He experienced many hardships and went to a faraway land to preach the Gospel. There he was killed for the faith. The Gospel of today recounts one of the Post-Resurrection appearances of Jesus Christ to His disciples. The glorified Jesus appears to his disciples, coming through locked doors and says "Peace be with you."
He breathes upon them the Holy Spirit, creating them anew. He also communicates His authority to forgive sins to the Apostles who will continue His redemptive mission through the Church, which is His Body. However, Thomas was not present for this encounter. As St. John recounts: "Thomas, called Didymus, one of the Twelve, was not with them when Jesus came. So the other disciples said to him, "We have seen the Lord." But he said to them, "Unless I see the mark of the nails in His hands and put my finger into the nail marks and put my hand into his side, I will not believe." "Now a week later His disciples were again inside and Thomas was with them. Jesus came, although the doors were locked, and stood in their midst and said, "Peace be with you." Then he said to Thomas, "Put your finger here and see my hands, and bring your hand and put it into my side, and do not be unbelieving, but believe." Thomas answered and said to him, "My Lord and my God" This encounter led to Thomas being called "Doubting Thomas" by some.
Yet the tradition tells us that this so-called "doubting Thomas" died a martyr for his faith. He became a messenger of the Gospel to India, a missionary who shed his own blood for the Master whom he encountered on that day. Thomas´s response in his beautiful encounter with the Risen Lord, "My Lord and My God" reveals the heart of prayer. It also speaks to the essence of faith. His proclamation is a call to adoration and a living communion with God.
His response has become the exclamation for millions when faced with the Mystery of Mysteries, the Holy Eucharist at the elevation during every Mass. We can see that today that St. Thomas is a model for all of us at every Eucharist which is always the Feast of Mercy. " We are invited to become living witnesses in our own day to the reality of the Resurrection of Jesus Christ. Thomas touched the wounded side of Christ to heal the wounds of our own disbelief.
We were invited to approach the throne of Mercy and cry out with St. Thomas: "My Lord and My God" (Jn 20:28). Those who do so are forever changed.
Let Us Pray: Lord Jesus, give me grace to trust in you always and to do your will. May my faith grow strong everyday in you. Amen.