COME BACK TO ME WITH ALL YOUR HEART (Jonah 3:1-10/Psalm 51:3-4,12-13,18-19/Luke 11:29-32)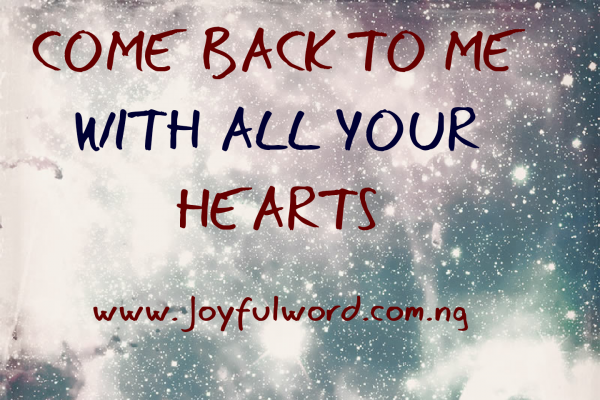 COME BACK TO ME WITH ALL YOUR HEARTS
(Wednesday March 13, 2019)
The first reading presents a true picture of how God deals with a sinner and community of sinners. God is the only God among other gods that warns before punishing offences because He does not derive joy from destroying a sinner or community of sinners neither does He celebrate in their death.
As prophet Ezekiel opines that what God wants is for sinners to turn away from their evil deeds and live. The three major players in this reading are God, Jonah and the people of Nineveh. The people of Nineveh have been known for their wickedness and evil as recorded in the reading. God, the One being offended wouldn't want to destroy them without giving them the opportunity to repent as He does every time to sinners and to each and every one of us whenever we offend Him.
From this first reading, we can see that God not only thinks well of the righteous but always have the well-being of sinners in mind as one of the things that gives Him serious concern. The idea of sending Jonah to the Ninevites implies that God does not want them to be destroyed because He too created them in His own image and likeness.
Jonah initially was resisting to go to Nineveh because he knows the extent of God's mercy and love. He knows that if he preaches to the people of Nineveh, God will forgive them. The people of Nineveh were saved from the anger of God because they listened to Jonah when he preached repentance to them. They embarked on a penitential exercise from the king down to the least of persons, even their animals were involved in this atonement for their sins!
We can see here that what the people of Nineveh did and obtained salvation is what the Church is calling us to observe during the Lenten period. The Church through her ministers is acting like Jonah because the Church knows that our God is full of mercy and love. Though He may be angry with us because of our sins, His anger does not last forever but is only for those who seek Him with sincere hearts, in truth and in spirit. Not for those who remained obstinate and hardened, those who derived joy in committing sins without qualms! God would have destroyed Nineveh if not that they repented and acted wisely based on the word of God they received from Jonah. God on His own part also repented from destroying them.
The question here is how many times do we listen to the word of God and how many times do we act wisely like the people of Nineveh. What positive efforts are we making to change from bad to good if we are not living according to the precepts of God? Let us remember that a humbled contrite heart the Lord will not spurn.
The people of Nineveh humbled themselves before the Lord and the Lord lifted them up by forgiving them. They listened to the word of God once and they did something that attracted God's attention. They never applied logic or began to ask questions about why they should repent.
The issue with regard to repentance and coming back to God is beyond the domain of logic and unnecessary argument. Christ addressed the people of His time as a wicked generation because they have such a wonderful personality like Him still they remained stiff neck in listening to His voice, always applying logic and unnecessary arguments.
Christ in the gospel of today told His audience that no sign would be given to them than that of Jonah because when he preached to the Ninevites, they repented without argument and somebody greater than Jonah is in their midst and still they would not want to listen to Him and repent. If Christ addressed the people of His time as a wicked generation, what about our generation? We have to answer this individually. O that today, you will listen to His voice, harden not your heart.
Let Us Pray: Lord Jesus, give me the grace to do your will always. May I hear your word and may it move me to true repentance. Amen.