COURAGE! YOUR FAITH HAS RESTORED YOU(Genesis 28:10-22/Psalm 91:1-4,14-15/Matthew 9:18-26)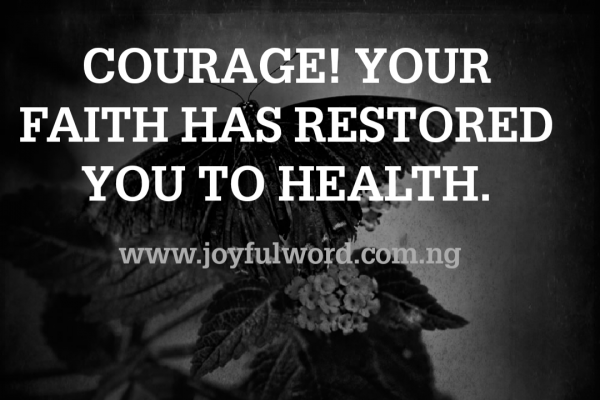 COURAGE YOUR FAITH HAS RESTORED YOU TO HEALTH
(Monday, July 08, 2019)
The gospel of today invites us to admire two splendid manifestations of faith. So splendid were they that they deserved to move Jesus Christ's heart immediately! — provoking His reaction. The reading from Matthew gives an account of two miracles, an official whose daughter is revived from death, and a woman who is healed of hemorrhage. Jesus does not perform His miracles like the magicians, who through some special incantations or the application of some balm, suddenly bring about a healing.
The miracles of Jesus seem to occur within natural processes. God acts within the capacities of nature, but a nature transformed by divine activity. Though, some philosophers have defined miracles as violations against the laws of nature. The fact remains that the healing stories of Jesus and many others in the gospels can be viewed as occurring within nature.
Miracles are signs or wonders indicating the special presence of God, or, as some authors have suggested, indicating the breaking in of the Kingdom of God here and now and pointing to the ultimate fulfilment of the Kingdom. The second feature of these miracle stories is that they are conferred by Jesus in response to expressions of faith.
The official expresses his faith by declaring to Jesus: "My daughter has just died, but come and place your hands on her, and she will live» (Mt 9:18). We could almost say that a strong faith as such can "oblige" God. But, He likes that kind of obligation. The other testimony of faith in today's Gospel is also equally impressive.
The woman who suffers from chronic hemorrhage expresses her faith by touching the edge of Jesus's cloak and telling herself that «If I only touch his cloak, I will be healed» (Mt 9:21). Both Jesus' reaction and the end result of this dialogue of faith are quite radical: «Courage, my daughter, your faith has saved you» (Mt 9:22). Faith here has a sense of complete trust in Jesus. Jesus responds to the woman's trust with, "Take heart, my daughter; your faith has healed you."
Notice that faith is not appealed to as a reason for believing, but rather as a consequence of having faith in God. So our approach toward the miracles stories and our religious faith should not be, "I believe in Jesus because He performed miracles," but rather, "I am confident that Jesus is God and for that reason the miracle stories make sense." As Christians, we need to express our faith in God with the assurance Jesus gave when He says: "Ask, and it will be given you; search, and you will find; knock, and the door will be opened» (Lk 11:9). This is exactly the base of the faith of the official whose daughter died and the faith of the woman with the issue of blood. Both expressed their faith in Christ by asking, seeking and knocking.
They got what they asked, what they sought for was granted to them and eventually the door of the miracle of Jesus was opened for them because of their complete trust in God. God is our Father and He does not want to refuse anything that is convenient for His children. Whether we are the beneficiaries or witnesses to the healing miracles of Jesus, do we respond in faith? Do we really have complete trust in God? There are some who are only after the miracles. For a time, after the miracle, they will be pious and thankful and after a short time, their faith goes back to zero.
The best way to be thankful to God is to respond with deeper faith before, during and after the miracle. Let our relationship with Jesus not end with the miracle like that of the miracle seekers as it is happening in our society today. Rather, let it pave the way for a better and closer relationship with Jesus.
Let Us Pray: Lord Jesus, give me a strong faith that will always trust you no matter the circumstances I experience. Amen.