GIVE THANKS TO THE LORD FOR HE IS GOOD, FOR HIS LOVE ENDURES FOREVER(Joshua 24:1-13/Psalm 136:1-3,16-18,21-22,24/Matthew 19:3-12)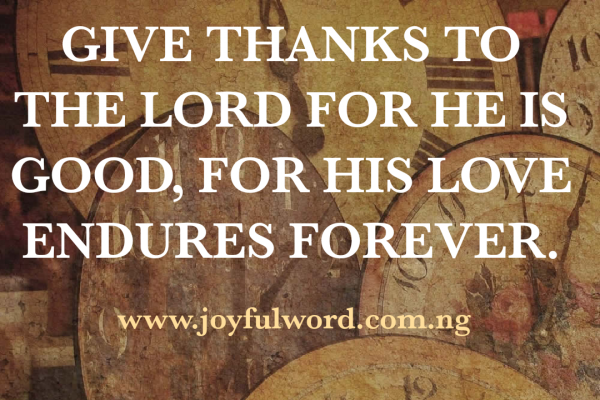 GIVE THANKS TO THE LORD FOR HE IS GOOD AND HIS LOVE ENDURES FOREVER
(Friday, August 16, 2019)
The first reading today presents the litany of God's great deeds, designed to stir up the gratitude of the Israelites for God's fidelity. The Gospel is the famous passage about the impossibility of divorce based on the argument that a couple who rightly choose one another bond into one flesh that cannot be divided by human decision.
The first reading is indeed a litany of God's faithfulness to His people, His deeds of kindness and goodness not only to the Chosen people in the bible but also for all of us, the Chosen people of the 21st century. Down through the centuries God has continually brought His people to a better place or situation. God has fulfilled our deepest needs.
The call to us is for an answering fidelity to the people and to God. We are called to live and work and love within the community, not alone. Joshua in the first reading gathered the Israelites and addressed them as a community not as individuals. We must always give thanks to God both as individuals and most importantly as a community for His goodness to us. Joshua calls the people together at God's command and calls out this litany to inspire a response of gratitude within the people. Gratitude is the first and most important step in really loving someone. When we are confident that we don't need anyone else then we do not give ourselves away in love.
One of the great blessings of modernity has been the recognition of the rights and dignity of each and every human person, but at the same time, one of the great curses of modernity has been to so highlight the individuality of each person that we forget we are communal creatures. We are conceived by a community of two; we survive, and more importantly thrive, when we dwell in a community of care and support. Without community connections, we cease to be human.
Joshua is trying to remind us of the importance of giving gratitude to God for the blessings, favours and other good things we received from Him. God has brought each of us from our own experience of the "land of Egypt" and has given us a name and a hand up to support us, an escape path when we feel "underwater," a light to lead us and a cloud to occasionally hide us from enemies. If we could only look closely at our lives and see all the ways each day that God rescues us and calls us to relationships of care and love, we could not be afraid of being faithful in return.
Let Us Pray: Lord Jesus, give me grace to be faithful in my vocation. May I continue to be grateful to you for your blessings upon me.