GO AND SIN NO MORE (Isaiah 43:16-21/Psalm 126:1-6/Phillipians 3:8-14/John 8:1-11)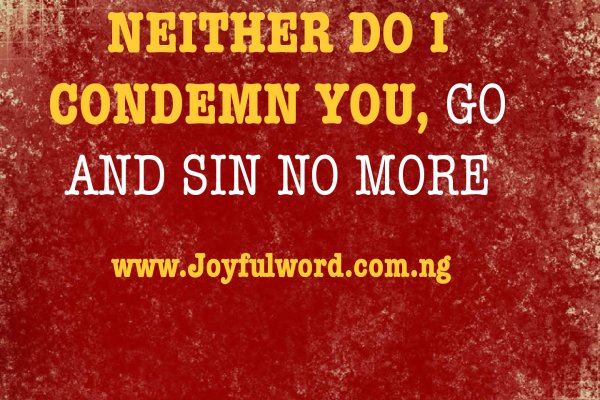 GO AND SIN NO MORE
(Sunday April 7, 2019 FIFTH SUNDAY OF Lent)
If there is a common thread running through the readings of this Sunday, I think it would consist of the primary intention of God to set humanity free – to call them out of the various captivities in which they find themselves into what Paul called "the glorious freedom of the children of God" (Rom 8:21). The gospel reveals to us that Jesus has a better way of dealing with sin and sinners than condemnation and punishment. He, on the other hand, does not deny or condone sin but his concern in this gospel is to rescue the woman from her terrible plight and set her free for a new life: "Go and sin no more". In the first place, the Prophet Isaiah tells us in the first reading today something very important: "Remember not the events of the past, the things of long ago consider not; see, I am doing something new!" What is this prophecy of a new thing? This prophecy indicates the coming of the Holy Spirit, the same Spirit who was active in creation and would provide consolation and hope to the people.
The season of Lent which culminates in the suffering, Passion, Death and Resurrection of Our Lord Jesus Christ is a sign of new Covenant God entered with the entire human race. The essence of the liturgy of this time beginning with the readings, gospels, antiphons, responsorial Psalms and so on is to present to us how deep and unfathomable this love of God is, clearly manifested in the coming of Christ, reached its highest point in the death and resurrection of Christ. From the Letter of St. Paul to the Philippians, Paul tells us that no pleasure, gift, talent, or riches can rival the invaluable blessing of possessing Christ. As Christian disciples, we are expected to put everything at the service of our relationship with Christ. Through Christ, our relationship with His Father has changed. A renewal has taken place because He demonstrated His love for us by living among us. Though the gospel of today is just a plot to get at our Lord Jesus Christ by the Jewish authority, to trap Him down so that they would have something to hold on in for calling for His death since they have made the conclusion that He must die. Looking at the reading critically, one may likely ask, is it only person committing adultery? Yes, they claimed that they got the woman red-handed, but then, what about the man she was doing the act with? When has adultery become the act of one person? If their law eventually said so, why bringing the woman to Jesus?
They should have gone ahead to implement what their law says at the scene of the crime without much ado. Since they neither believed in Him nor on the works He performs, why looking for Him this time and addressing Him as "Master". It is very clear that something is cooking up here and the truth of the matter remains that they want to trap Jesus down using this woman as a setup. Well, I wouldn't want us to go further on this but to concentrate on the lessons of the gospel reading. The Gospel of John lays bare how Jesus living among us showed us mercy and forgiveness. Jesus shows His loving kindness to the woman caught in adultery.
The mercy of God does not condone sin but rather compassionately recognizes repentance and grants forgiveness. What a contrast between the cruelty of the scribes and Pharisees and the compassion of Jesus in our Gospel (John 8:1-11). The scribes and Pharisees had no regard for the woman. They were only interested in using her to try to trap Jesus. They had no regard for the fact that maybe she did not initiate the sin, perhaps it was the man. But Jesus is full of compassion. He restored the woman again, in two ways. He restored her spiritually by forgiving her, telling her he did not condemn her, while also insisting that she should not sin again, and he restored her to society by saving her life. No one knows what Jesus wrote on the ground but some biblical exegetes suspect Jesus was writing the sins of the scribes and Pharisees on the ground. Notice also that it was the eldest who went away first. The eldest had committed more sins, those who had lived longer had more to be sorry about in their own lives.
The woman received forgiveness from Jesus and also received her life back again. Notice Jesus' last words to the woman, "go away and don't sin anymore." (John 8:11) Although Jesus has forgiven her sin he expects her to live a life of grace and union with God from now on by not sinning any more. Jesus doesn't say that sin does not matter because sin does matter and damages our relationship with God. So Jesus says, "go away and don't sin anymore." When we receive Jesus' forgiveness he expects us to live as new people afterwards.
That is precisely the attitude with which we are to come to receive the Sacrament of Reconciliation. It would make no sense to come to confess our sins if we intended to continue committing the same sins again. In weakness, we may commit the same sin again but as we come to confession if we do not intend to amend our lives then surely we cannot say that we are truly sorry for our sins. Surely we can only genuinely say that we are truly sorry for our sins if we have a firm intention not to commit sin again. if we could see into our souls and see the damage our sin causes to our souls and to the whole Church we would flee from committing sin. Our Christian life is about meeting Jesus every day and knowing that His love for us is ever new. Life in Christ gives us the strength to overcome difficulties that come into our lives.
This Lenten period is not about being perfect. Rather, it is about learning to follow our Lord Jesus Christ the best we can, always relying on His love, mercy, compassion and forgiveness. Let us ask during this Lent: Lord Jesus, renew us with your love.
Let Us Pray: Lord Jesus, give me the grace to love and be merciful as you have loved me and may I be Compassionate to the weak in our world. Amen.