IT PAYS TO BE HUMBLE (1 John 5:14-21/Psalm 149:1-6,9/John 3:22-30)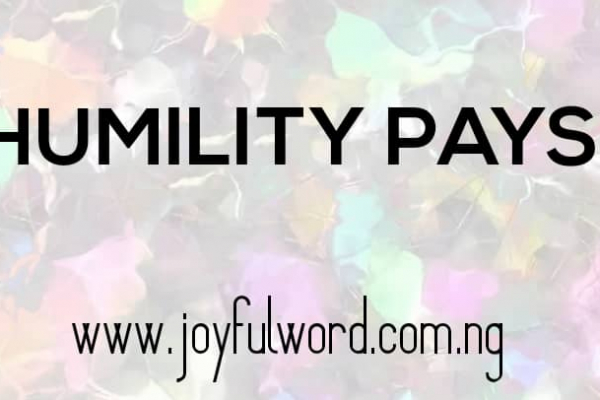 IT PAYS TO BE HUMBLE
(Homily For Saturday 12 January, 2019)
"He must increase, but I must increase" (John 3:30)

Humility is one of the virtues that helps us not only to accept who we are but to respect, acknowledge the good worth of others, their dignity and position. It is the unwillingness to put oneself forward even when one has all it takes to be on top of others.
Humility is a virtue for all both the rich and poor alike. Virtue for the learned and unlearned. Virtue for the superiors and subjects. In a world where impersonation, claiming and trying to assume what one is not, where humility has been sacrificed on the altar of pride and power, where many people want to be noticed by all means, in a world where majority want to assert their authority with the saying "do you know whom I am? Do you know my worth and my position in the society, in the Church and so on, the practice of humility seems to be difficult. It is rather left in the hands of few people who understand the value, the benefit and the spiritual imports of such virtue.
The gospel of today is a clarion call for us to reflect deeply on the lifestyle of this great man called John the Baptist whose coming brought about the immediate preparation of the coming of Christ. He indeed is a forerunner of Christ who truly deserved the name.
His entire life was a full package of what humility stands for. John taught the world how good and pleasant it is when one humbles himself/herself in order to be raised by God. John indeed is humility personified, he not only preached about humility but he practiced it to the core.
Just imagine what happened in the gospel of today. When his disciples told him about Christ baptizing and many people going to Him. John in his first response gave us a tip of what humility stands for! He says "A man can lay claim only to what is given him from heaven", nothing more, nothing less. Claiming what we are not or what was not given to us is pride and pride goes before a fall and John wouldn't want to create unnecessary impression by claiming what he is not or what was not given to him because doing that will be an automatic betrayal of the One who he came to bear witness to and prepare the people for His coming.
In the second response, John emphatically said: "I myself, I am not the Christ; I am the one who has been sent in front of Him". When John came on board, many thought that he was the Christ even to the point of asking him to stop keeping them in suspense if he is the Christ. Honestly, had it been that John told his audience that he is the Christ, they would have believed him a long time ago even before the coming of Christ as many would have done today if such an opportunity seems to come their way.
John is not an opportunist but rather humility personified. He didn't allow the temptation of pride to becloud his mission which was ordained before he was born. He made it known to his listeners and the world in general that he is not the Christ but only a voice, only a fan, only an inferior, that the key Player, who is Christ the Messiah is on His way, that he John is not even worthy to untie the strip of His sandals (Lk 3:16).
What a wonderful compliment and words of humility. John indeed acknowledged the greatness of Christ even before he was born. He did obeisance to Christ in his Mother's womb, when he leaped for joy when Mary visited Elizabeth his mother (Lk 1:39-45). When we acknowledge the worth of others, God Himself will raise us up because He casts down the mighty from their thrones and raises the lowly (Lk 1:52).
John acknowledged the worth of his Master, Christ, in turn, acknowledged the greatness of John by saying "…among those born of women, there is no one greater than John the Baptist (Lk 7:28). We should try to stop the life of PULL HIM/HER DOWN (PHD) syndrome that has eaten deep into the fabrics of our society today. John would have used his position to pull Christ His Master down or even assumed His position because he came before Him and controlled the crowd as well.
John desisted from doing that as he made it clear in his third response in the gospel of today "He must grow greater and I must grow smaller! How many us will do exactly as John did especially when an opportunity offers itself on a platter of gold.
We are called to cultivate the virtue of humility and it is only through this that we will accept one another, acknowledge the talents of one another and correct one another with love as saint John points out today in the first reading.
We need to allow the virtue of humility to rule our Christian community and the world in general. It is only through humility that the one who is being corrected will accept his/her faults and mistakes and makes effort to change for good. Also it is through humility that the one who is correcting or pointing out the faults of others will apply Christian charity knowing fully well that nobody is perfect but that all of us are striving to perfection. It truly pays to be humble, therefore, keep doing and seeking those things that will make you to be humble.
Let Us Pray: Lord Jesus Christ, give me the grace of humility and help me to practice it on a daily basis in words and deeds. Amen.