JESUS IS THE BREAD OF LIFE, WHO FINDS HIM, FINDS LIFE(Acts 7:51-8:1/ Psalm 31:3-4,6-8,17,21/John 6:30-35)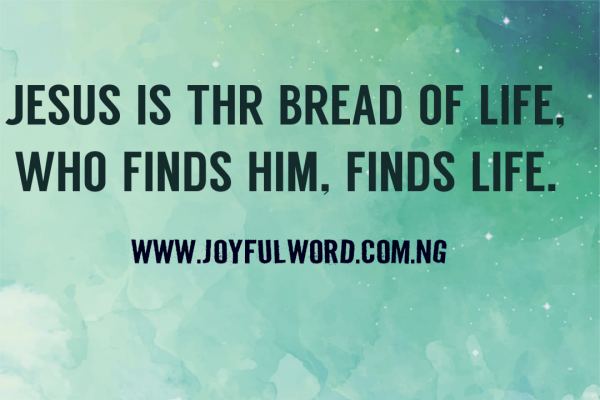 JESUS IS THE BREAD OF LIFE, WHO FINDS HIM, FINDS LIFE
(Tuesday, May 07 2019)
In the Gospel of today, Jesus gives the discourse of Himself as the Bread of Life. He began by stating that the manna which God gave the chosen people in the wilderness was not the gift of Moses but God's gratuitous gift. Jesus went on to say that He is the true and real Bread of life which comes down from heaven and gives life to the world. That anyone who eats the food He Himself will give will be satisfied because it comes from God and will give life to the world.
The life of faith surpasses life on earth. Thus, we should not only ache for the bread which sustains our earthly hunger. We ought to seek the bread which will last us through life on earth to eternal life. Only God can give that. And God generously made it available to us through Jesus Christ. Christ said "I am the Bread of Life and he who comes to me will never be hungry and he who believes in Me will never thirst. The gift of Himself to us is for our own good.
No one on earth can satisfy our spiritual needs but only Jesus Christ who is the way, the truth, and the life. Christ always makes Himself available to us in the table of the word and table of the Eucharist. We have to set our minds always on Christ even when the situation of things is not moving on well like in the case of St. Stephen in the first reading who was unjustly condemned and stoned to death because he bore authentic witness to Christ and spoke eloquently on the things of God. This is in line to what St. Paul says in his letters to the Romans that "You are not in the realm of the flesh but are in the realm of the Spirit if indeed the Spirit of God lives in you.
That anyone who does not have the Spirit of Christ does not belong to Him (Rom 8:9). St. Stephen indeed possessed the Spirit of Christ, he preached about Him and bore witness to Him until he was gruesomely martyred. He equally prayed and asked God to forgive his executioners. Dear brothers and sisters, if we truly have the Spirit of Christ, let us show it always in our actions.
Let Us Pray: Lord Jesus, give me grace to follow you and to always desire to do your will and may I be ready to speak the truth and die for it.