LET YOUR LIGHT SHINE IN THE SIGHT OF ALL PEOPLE (Acts 11:21-26;13:1-3/Psalm 98:1-6/Matthew 10:7-13)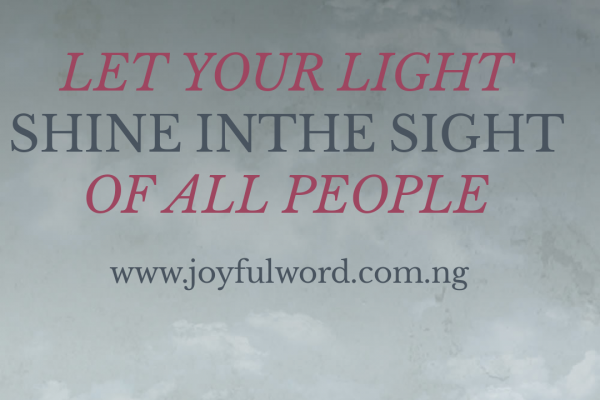 LET YOUR LIGHT SHINE IN THE SIGHT OF ALL PEOPLE
(Tuesday, June 11, 2019 The Memorial of St. Barnabas)
Today the Holy Mother Church celebrates the memorial of Saint Barnabas. Though not one of the original Twelve Apostles, Barnabas, as we shall later see, came to be called an Apostle. Today's first reading from the Acts of the Apostles paints a portrait of Barnabas whose name means "son of consolation or encouragement". St. Luke, the author of the Acts of the Apostles, tells us that Barnabas was "a good man filled with the Holy Spirit and faith." As today's reading opens, Barnabas is living in Jerusalem in the days following the coming of the Holy Spirit at Pentecost. We see how the gospel quickly went beyond Jerusalem and spread to Antioch where many people were being won over to the Lord. Indeed, encouragement is not only a gift of the Holy Spirit but also a title.
The Holy Spirit is the Spirit of Encouragement. The Holy Spirit brings encouragement where it is needed by giving this gift to all who needed it. In the First reading, we saw how Barnabas went to Antioch and encouraged everyone "for he was a good man, filled with the Holy Spirit and faith." This kind of encouragement is more truly a proof of the presence of the Holy Spirit than speaking in tongues or prophecy. The evil spirit gives prophecies, but only the Holy Spirit gives encouragement to Christians. We see a characteristic of that encouragement when Barnabas goes up to Tarsus and finds Paul. A true Barnabas looks for the God-given gifts in others and is not jealous but rather rejoices. We Christians are not all going to preach like Peter.
We will not all count converts by the thousands like Paul. We do not all have the theological mind of John. We may not raise the dead or cure the sick or speak in tongues or prophesy, but we all should learn to emulate Barnabas. We all should learn to encourage our brothers and sisters to be better Christians. We should all be sons and daughters of encouragement – not mere human encouragement but the encouragement of the Spirit, who fills our hearts, who always has a word or action ready for us to share with another.
Barnabas is truly the salt of the earth and light of the world as Christ emphasized. Barnabas is like a city built on the hill-top that cannot be hidden and he used all his energy to bring light to the people living in darkness by preaching the Good News to them thereby fulfilling Christ's injunction. We are called to emulate St. Barnabas in all we do as Christians especially possessing the qualities of salt so as to bring a change in people's lives and also assume the attribute of light in order to bring light to those walking and living in darkness.
Let Us Pray: Lord Jesus, give me the grace to go out and proclaim your kingdom always so that I will win souls for you. Amen.