RETURN TO THE LORD AND LEAVE SIN BEHIND(Sirach 17:24-29/Psalm 32:1-2,5-7/Mark 10:17-27)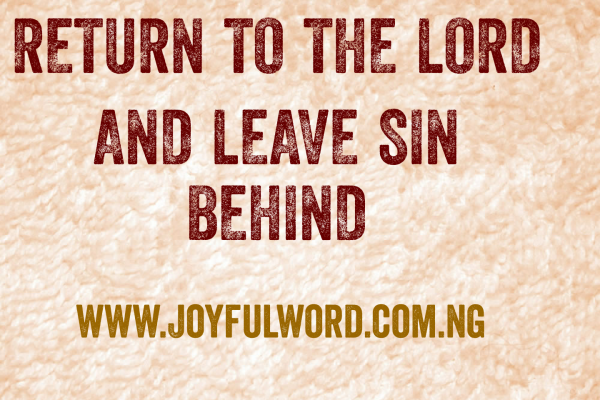 RETURN TO THE LORD AND LEAVE SIN BEHIND
(Monday March 4, 2019)
The call to repentance has been one of the central themes in the Bible that reminds us of the extent of God's mercy and love. The Church on her own part never ceases to call her children to embrace a change of heart and reconciliation with God who always wants us to be Holy.
Repentance is seen even from the biblical point of view as a sign of humility because acknowledgement and confession of sins can only take place when a sinner humbles himself/herself. It is this humility that makes a sinner to be always in search of God for healing and wholeness. A heart that searches for God always finds Him because God is always available to welcome those that come to Him in humility and in obedience. This is in line with what King David says "A humbled contrite heart O Lord you will not spurn" (Psalm 51:17).
All this form the central message of today's first reading in the last week before the Holy season of Lent, a period devoted to repentance, forgiveness and reconciliation. We can see that the Church in her wisdom purposely structured the liturgy of today to suit our preparation toward the Lenten period. The reading goes thus "To those who repent, God permits return, and He encourages those who were losing hope. Return to the Lord and leave sin behind, plead before His face and lessen your offence. Come back to the Most High and turn away from iniquity, and hold in abhorrence all that is foul"
Imagine such a wonderful admonition and words of hope to come back to the Lord so as to find life and serenity of mind. The reading concludes by stating "How great is the mercy of the Lord, his pardon on all those who turn towards him" (Eccles 17:20-28).
In addition to this, the Psalmist provides us with a mood and condition of the person(s) whose sins are forgiven. He says "Happy the man whose offence is forgiven, whose sin is remitted. O happy the man to whom the Lord imputes no guilt, in whose spirit is no guile"(Psalm 31:1).
When we truly understand the nature of our God and how He loves us, we neither need to run away from Him nor try to hide our sins and iniquities from Him. It is this acknowledgement that Psalmist also brings to our consciousness as he says "But now I have acknowledged my sins; my guilt I did not hide. I said: 'I will confess my offence to the Lord. And you, Lord, have forgiven the guilt of my sin. You are my hiding place, O Lord; you save me from distress. You surround me with cries of deliverance" (Psalm 31: 2, 7).
I think the first reading and the responsorial psalm provided the answer to the man who came to Jesus in the gospel asking Him what to do in order to be saved. The call to repentance is for everybody since no one is good as Christ pointed out in the gospel. "Why do you call me good? No one is good but God alone" (Mark 10:18). From this Christ's statement let us always seek the face of God even when we consider ourselves as righteous people so that His grace will always sustain us not to fall back to sin.
Let Us Pray: Lord Jesus, help me to repent of my sins and may I be willing and ready to follow you so that I will have eternal life. Amen.