SAVE US FROM SIN AND THE STORMS THAT RAGE AROUND US(Genesis 19:15-29/Psalm 26:2-3,9-12/Matthew 8:23-27)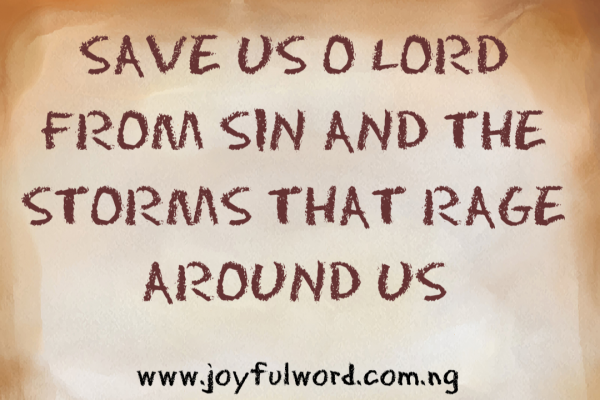 DO NOT SWEEP US AWAY WITH SINNERS, BUT SAVE US LORD
(Tuesday, July 02, 2019 Year C)
The story of Lot and his family being rescued from the destruction that took place in the cities of Sodom and Gomorrah reminds that God's mercy is actively engaging us, even when we are reluctant. After admonishing Lot to leave, we are told that when Lot hesitated, the angels went so far as to take Lot by the hands to lead him and his family out of harm's way. one may wonder what could have caused Lot to hesitate in the face of such a dire warning? It seems that Lot would prefer to die than endure the hardship of a journey away from the plane destined for destruction.
Yet the angels here accommodate his request. indeed, Lot's conduct would have been a great disappointment to his uncle Abraham if he had known about it. Can you imagine the angels shaking their heads in wonder about Lot's reluctant attitude to leave these cities destined for destruction because of the high level of their immorality? It seems that Abraham's prayers helped to save Lot, even though he might have deserved another outcome.
The story shows us that God is rich in mercy, even toward people like Lot and his family who may not have had much going for them in terms of deserving to be rescued. That mercy may also come from the prayers of others, revealing that we may be less independent than we think. I strongly believe that the prayer of Abraham contributed immensely to save Lot and his household. Shouldn't this motivate us to be grateful for the prayers of others, and to be generous with our own prayers?
Today's Gospel presents another lesson about mercy, this time involving those who really want to be saved! While poor Lot's senses may have been dulled from his environment, the disciples who were with Jesus had a clear and urgent sense of their need. Could it be that when we spend time with Jesus, we are awakened to our need for mercy? And when we ask Him, He gives us what we need. The gospel presents us with two attitudes we need to put up when we are at the crossroads. One of these attitudes is not to presume God when we are in a tight situation.
Even though He knows all our needs even before we make our supplications but we have to pray and present those requests of ours to Him. Like in the case of the disciples of Christ, they never presumed that after all, "we are with our Master, that He ought to have known that we are in great danger". Rather, the disciples, seeing the danger they were into, went to their Master and said "Save us, Lord, for we are going down. Though Christ responded by calling them men of little faith but the central message here is that the disciples showcase the attitude of praying to God in a terrible situation instead of the other way round of saying "after all God should have known that we are in great difficulty, is He no longer God that knows everything?
Yes, He is God that knows everything but we have to make effort either as a group like the disciples did or personal effort to approach Him when we are in a state of dilemma. The second attitude is based on Christ's response to His disciples. Christ made the disciples understand that one with God is with the majority. When we have God on our side, whom shall we fear? This calls for total trust in God when it seems that all hope is lost.
Let Us Pray: Lord Jesus, save us from the power of sin and the storms that rage in our lives and help us to be dedicated to you. Amen.