TAKE UP YOUR CROSS AND FOLLOW ME(Deuteronomy 4:32-40/Psalm 77:12-16,21/Matthew 16:24-28)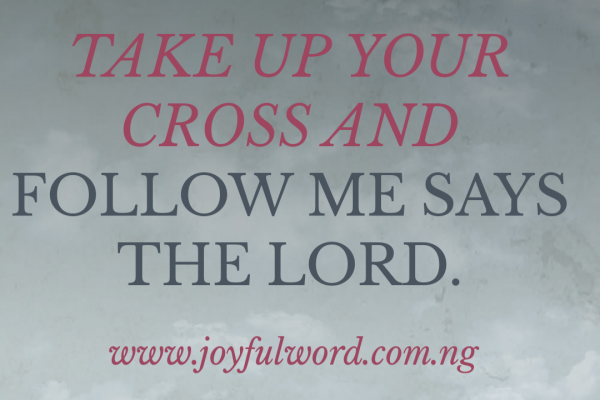 TAKE UP YOUR CROSS AND FOLLOW ME, SAYS THE LORD!
(Friday, August 09, 2019)
In today's first reading, Moses exhorts the people to think, to reflect, to open their eyes and hearts to the miracles in their midst. He begins with, "Did anything so great ever happen before? Was it ever heard of?" and goes on to enumerate specific examples of God's power, mercy and love that they have been privileged to experience.
This type of reflection, looking back to see the wonders we have experienced in our lives, is not only healthy and right, but it is also mandatory to see the hand of God in our lives. Like the Israelites, we tend to get caught up in the everyday challenges, struggles and travails of life and forget the big picture and the many times we have been saved from physical danger and other miraculous deeds that happened in our lives. If we set aside time periodically to remember – even writing down the miracles in our lives, the prayers that were answered in amazing yet perhaps unexpected ways, the "coincidences" that dot our lives and direct our paths – we will see God's guiding grace.
We will be moved to say, like Moses, "Did anything so great ever happen before?" And then we must be moved, as Moses was, to understand that we have been granted these graces, this guidance so that we "might know the Lord is God and there is no other." (Dt. 4: 35). When we feel that our lives are just in our hands, or perhaps in the random hand of "fate," we feel anxious and confused. But when we realize the wonders God has done and the places through which and into which He has brought us, our faith soars.
Another bit of great wisdom in Moses' exhortation and really the key to building and sustaining our faith is his statement that goes thus, "This is why you must now know, and fix in your heart, that the Lord is God in the heavens above and on earth below, and that there is no other." The key is "fixing" these truths in our hearts and in this way, we will remember God's provisions for us throughout our lives and we will be moved to respond with gratitude and increased love. we will remember that God is God and He is in control. We need not fear what may appear to be chaos.
Writing down our personal "faith stories" whenever we recall them makes it even easier to "fix them" and the truth they reveal in our hearts. Today's Gospel continues with the words of Jesus to Peter which we meditated on yesterday. Jesus does not hide nor lessen the demands of discipleship. He does not allow Peter to take the initiative and puts Him in his place. Today's Gospel makes explicit these demands for all of us. Take up your cross and follow Me" (Mt 16:24).
Jesus draws the conclusions which are valid even until now: "If anyone wants to follow Me, let him renounce himself and take up his cross and follow Me". At the time of Jesus, the cross was the death sentence which the Roman Empire inflicted on marginalized persons and bandits. To take up the cross and carry it behind Jesus was the same as to accept to be marginalized by the unjust system which legitimized injustice.
The Cross is the consequence of the commitment freely taken up by Jesus to reveal the Good News that God is Father, and therefore, we all have to be accepted and treated as brothers and sisters. Because of this revolutionary announcement, Jesus was persecuted and He was not afraid to give His life. Nobody has greater love than this: to give one's life for his friends (Jn 15:13). Jesus also exhorts us in the gospel of today that Anyone who wants to save his life will lose it; but anyone who loses his/her life for My sake will find it".
The reason is important: "For My sake", or like Mark says: "For the sake of the Gospel" (Mk 8:35). Christ ends by saying, "What, then will anyone gain by winning the whole world and forfeiting his life? Or what can anyone offer in exchange for his/her life?" This last phrase recalls the psalm where it is said that no one is capable of paying the ransom for his life: "But no one can ever redeem himself/herself or pay his/her own ransom to God; the price is too high and this is exactly what Christ did for us for free "He gave His life as a ransom for many (Matt 20:28).
Let Us Pray: Lord Jesus, give me the grace to carry my cross everyday and follow you and may I receive eternal reward in heaven on the last day. Amen.