THE LORD HAS SENT ME TO BRING THE GOOD NEWS TO THE POOR (1 Thessalonians 4:13-18/Psalm 96:1,3,4-5,11-13/Luke 4:16-30)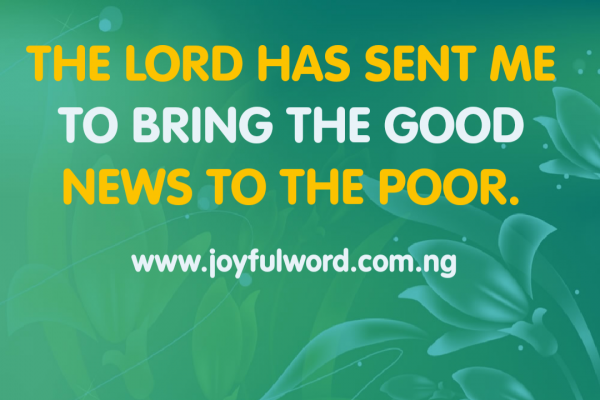 THE LORD HAS SENT ME TO BRING THE GOOD NEWS TO THE POOR
(MONDAY, SEPTEMBER 02, 2019)

Today's Gospel reading reveals Jesus Himself and His mission. Jesus proclaims the following: The Spirit of the Lord is upon me, because he has anointed me to bring glad tidings to the poor. He has sent me to proclaim liberty to captives and recovery of sight to the blind, to let the oppressed go free, and to proclaim a year acceptable to the Lord.
This is quite a proclamation! The reaction to Jesus is positive at first with the crowd in amazement. They then are filled with fury and finally end with the thought of hurling him to his death. Christ in this gospel reading met the greatest shock of His life. Filled with zeal and enthusiasm, Christ went to His home country to perform that which He has been doing in other places but it was quite disheartening and very unfortunate that His own people rejected Him and manifested a high-level lack of faith in His very presence.
The event described in today's Gospel seems to have taken place relatively early in Jesus' public ministry when He returns to His native town of Nazareth and is invited to speak in the synagogue. He already has a reputation for preaching with authority and with healing the sick. He is known to be able to perform "signs and wonders" and yet when He reads the passage of Isaiah and then claims its meaning for His own life, He was rejected by the very family and friends with whom He grew up.
He speaks with the same authority as He does in other places, but the lack of faith of the listeners makes it impossible for Him to exercise the authority of God's Spirit that fills Him in order to rescue them from their blindness, deafness, or hardheartedness. What is our attitude towards the word of God we receive every now and then especially with those people we think we know their background and root? Do we judge people based on their root rather than the message of salvation they bring to us?
This was the same attitude that Christ condemned in the gospel of today. His people rejected the Word of Life because they knew where He came from and His family members. Let us take the truth embedded in the word of God being preached to us. Let us show a great sign of faith so that what we hear will transform us to be better Christians and bear more fruits in us.

Many insights can perhaps be drawn from the gospel of today. Certainly insights about Jesus and His ministry and insights into the ministry of the baptized who, in union with Jesus, are filled with the Spirit of God to announce Good News to the poor and to set captives free.
Let Us Pray: Lord Jesus, give me grace to to place my trust in you always and to accept the word of life that comes from you. Amen.