THE LORD IS CLOSE TO THE BROKEN HEARTED (Wisdom 2:1,12-22/Psalm 34:17-21,23/John 7:1-2,10,25-30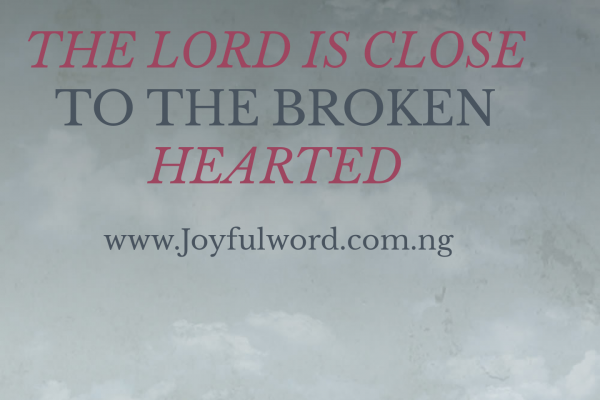 THE LORD IS CLOSE TO THE BROKEN-HEARTED
(Friday April 5, 2019)
The plot to kill Christ has begun. The Jewish authorities have made up their minds to destroy an innocent one just because of their superiority complex. They thought that Christ came to take away their position of authority from them. What exactly did He do that warrant this wicked plot and hatred? Nothing! As a result of this wicked plot to do away with Him, Christ no longer makes public appearances as He used to do. That notwithstanding, it does not mean that Christ is afraid of the Jews. The simple reason which the gospel tells us is that His time has not yet come. This is a practical lesson for us too. To run for our lives whenever we see danger coming is very important. It is not an act of cowardice. As some people will say nothing will happen. Let us remember that God indeed helps those who help themselves and that is why He gave us reason to make wise decisions when necessary. Christ deemed it fit to stay away from the crowd and avoid some public appearances just because He wouldn't want the Jewish authorities to terminate His life when the time has not yet come.
The work He has to do has not yet been completed. Christ was not afraid of the authorities but He treaded with caution and carefully minded His movement when the plot to destroy Him has been concluded. Coming to the gospel of today, we see Christ appearing before the crowd when it was necessary and speaking freely without being afraid of anybody even the so-called authorities. From the people's utterances and reactions in this reading, it is quite obvious that many of the Jews especially the Pharisees, scribes and the elders hated Christ because they knew where He came from as they said. Just look at their statements "Isn't this the man they want to kill? And here He is, speaking freely, and they have nothing to say to Him! Can it be true that the authorities have made up their minds that He is the Christ? Yet we all know where He comes from, but when the Christ appears no one will know where He comes from"
They hated Him because Christ came and appeared as an ordinary and simple Jew who associated with everybody both the rich and the poor alike especially with the downtrodden and sinners. Is it a crime that Christ came to be with His people in a humble manner, eating and dining with them, accommodating them, showing them the way to the Father? So going with their statement, had it being that He came in a mystified form or like a spirit, they would have believed Him. He came to His own as St. John said in his prologue, His own rejected Him as a result of flimsy excuses that they knew where the Christ came from. And what about that? The Jews were misguided because they thought that Christ would have assumed a mighty man in battle to save His own people without knowing that God always works with those things people regarded as nothing to shame those who claimed that they are wise. That simple Jew and ordinary person in their own eyes is the point of reference today and the Saviour of the world.
The attitude of some Jews alongside their authorities toward Christ was too bad and uncalled for. Many of us today exhibit that character. Many have rejected that: persons or things, which could have been their source of liberation just because of this very attitude of "I know where he/she comes from" what has he/she to offer after all I know his/her family background, I know his/her parents, his/her brothers and sisters and so on! What has "where he/she comes from syndrome" to do with the gift(s) that person possesses and his/her ability to deliver? Let us, dear brothers and sisters, use the remaining part of this season of Lent to work on ourselves especially changing some negative attitudes we have toward others.Let us always value ourselves and the gifts each and every one of us has and stop this attitude of "I know where he/she comes from syndrome"
Let Us Pray: Lord Jesus, give me the grace to remain steadfast even in the face of persecution so that I will bring glory to your name. Amen.