THE LORD IS COMPASSIONATE AND LOVE(Genesis 18:16-33/Psalm 103:1-4,8-11/Matthew 8:18-22)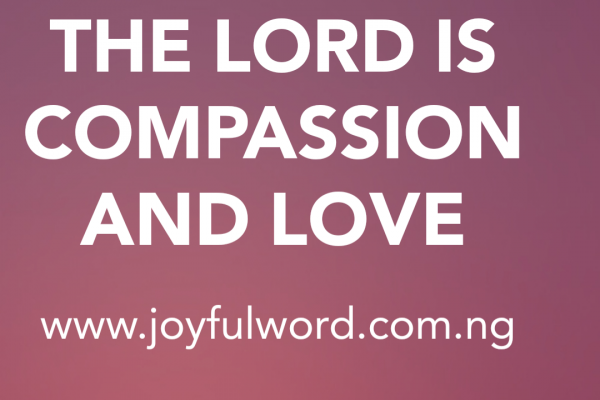 THE LORD IS COMPASSION AND LOVE
(Monday, July 01, 2019 13TH WEEK YEAR C)
In today's Gospel, we see the version of Matthew of yesterday's Gospel according to Luke. The same message is being given – follow the Lord without reserve and in full commitment. Jesus was being honest in saying that a disciple is so focused and moved by the urgency of the coming of the Kingdom that he is not in need of a resting place. Furthermore, even burying the dead does not merit as a reason to be delayed and derailed in the proclamation of the Kingdom.
This is something that many Christians had taken lightly and for granted. Jesus is serious in telling us the need to be concerned always with salvation. The disciple does not rest. There is no day when the journey towards the Kingdom is set aside. Everything we say and do is always in regard to the Kingdom. We are always mindful of what God will say rather than what others will say. We are more concerned with how we gain spiritual riches rather than material riches.
Not that material riches, power, fame, and other worldly things are not important. God comes first. Jesus gave a lot of teachings on this; "Seek first the Kingdom and all will be given unto you." "What does it profit a man if he gains the whole world but suffers the loss of his own soul."
The rich young man who sought the Kingdom was on target. But he was challenged by Jesus to sell everything and follow Jesus. It turned out that eternal life is not enough reason for him to sell everything. He loved more of his riches. His riches come first. He cannot have both God and mammon. The tax collector, Zacchaeus, was different. Thankful of Jesus visit to his house in spite of the hatred of the Jews to him, he responded to Jesus' call. He publicly proclaimed that he would give half of his belongings to the poor and to those he defrauded, he will pay them back fourfold.
For him, he is willing to give up everything to attain eternal life. He got Jesus' message. He got the Kingdom. The ball is now in our own court. How do we intend to follow Christ? Is it by giving excuses or giving Him condition on how we will follow Him? Christ is giving us an invitation to follow Him, let us avail ourselves this wonderful opportunity to accept this offer.
Let Us Pray: May your grace be upon me O Lord and may I continue to do my best to help others cone to know you. Amen.