THE LORD IS GOOD TO THOSE WHO HOPE IN HIM (Habakkuk 1:2-3;2:2-4/Psalm 95:1-2,6-9/2 Timothy 1:6-8,13-14/Luke 17:5-10)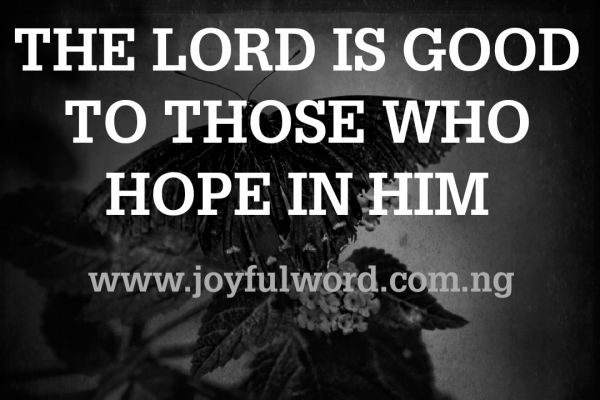 THE LORD IS GOOD TO THOSE WHO HOPE IN HIM
(SUNDAY, OCTOBER 06, 2019
THE 27TH SUNDAY IN ORDINARY TIME, YEAR C)

On this twenty-seventh Sunday of ordinary time, the Holy Mother Church invites us to reflect on one of the most important Christian and theological virtues – Faith. It is the foundation of our Christian life. Faith gives us a new vision and version of life.
Without faith, we see only the ugly and dark side of life. Without faith, we remain helpless and slaves to despair and hopelessness. Faith liberates us and helps us to see the power and love of God at work in our lives.
In the first reading of this Sunday, we are reminded of this very popular verse from the book of Habakkuk: "… the just shall live by his faithfulness." As human beings, at times in life, we find ourselves in the shoes of the prophet Habakkuk. We simply find ourselves helpless, and everything goes dark and hope appears hopeless to us. It is part of the process of Christian growth and maturity. It may seem that violence and terror succeed, faith and patience will endure. God has made promises, which at times, seem far away from fulfilment. Faith is more than belief; it is a way of responding to our lives' events.
The Good News is that God will not fail us if we remain faithful during such moments. He will definitely break His silence at His own, and appropriate time in order to reassure us that He is there for us. Through these words that, "the just shall live by his faithfulness, God simply encourages us to remain faithful in good deeds and actions.
This faith in question is a saving faith. The Just here is the one who still perseveres in good deeds. He is the one who still trusts in the saving power of God. He is the one who still prays to God.
In the second reading, Paul strikes the same note by admonishing us thus: "Fan into flame the gift that God gave you…keep as your pattern the sound teaching you have heard from us, in the faith and love that are in Christ Jesus."
Here, the Apostle calls us to action. He awakens us to realize who we are. He reminds us of the power of God at work in us through the sound teachings we have received.
He encourages us to preserve the faith, (the sound doctrine) which we have received from God through the Holy Spirit and His apostles. Hence, this simply reminds us that our journey is a journey of faith. This faith must be constantly questioned and also called into action. It must be lived out through steadfastness and perseverance. This faith must be demonstrated through actions because: "…faith without action is dead" according to St. James (James 2:26).
So, the type of faith we are talking about here is not the type that is blind and always asleep. No, it is the faith that sees good opportunities and takes advantage of them. It is not like the faith that most of us preach today, that seems to suggest that should we go to sleep every second and expect God to assume our responsibilities and solve all our problems. On the contrary, it is a faith that moves us into action.
In today's gospel, the Apostles of Christ reminds us of what we should be praying for each day. That is, praying to Christ: "Lord increase our faith." Their humility and acceptance of their lack equally remind us of the importance of faith in our Christian life and journey.
The apostles ask for an increase in faith. Jesus seems to be harsh in His response. The apostles are pictured as having no faith, not even the size of a mustard seed. Then Jesus seems even more harsh by telling them about a servant who does what he is told to do and expects no special treatment from the master when the duties are finished.
The master is not grateful for the servant's having done their labours, including fixing the master's dinner after finishing the farm labours.
Our Lord Jesus Christ is always ready to increase our faith. However, we must humbly to ask for it. Second, we must make the necessary efforts through our actions.
Finally, we need faith in order to preserve in good works. We need it in order to remain steadfast during difficult moments in life. We need more faith in order to trust in God's will and judgement. So, we must humble ourselves each day to say: "Lord, increase our faith."
Let Us Pray: Lord Jesus, give me the grace to grow in my faith and may I never doubt you or be afraid because of the challenges of life. Amen.