THE LORD LISTENS TO THE NEEDY (Baruch 4:5-12,27-29/Psalm 69/Luke 10:17-24)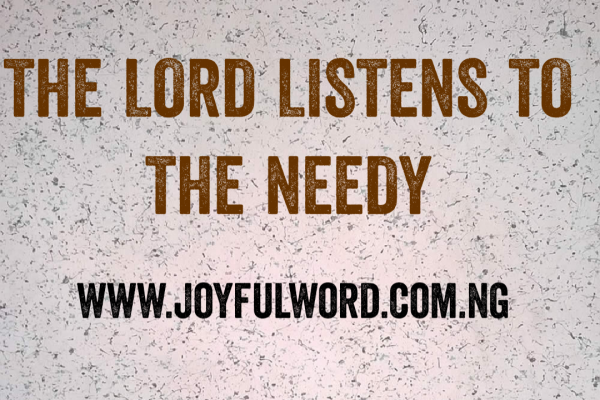 THE LORD LISTENS TO THE NEEDY
(SATURDAY, OCTOBER 05, 2019)

Life as we know it comes as a mixture of good times and difficult times. During those good times, we can experience those water-walking moments, that seems to place above all of our problems. There are also those difficult moments, where we seem to get overwhelmed by the many obstacles this world has to offer. Our comfort comes in knowing that we are not on this journey by ourselves, but that we serve a God who cares.
Hence we learn, when in affliction, to commit the keeping of our souls to God, that we may not be soured with discontent, or sink into despair. In Psalms 69: 1-21, we find that David was hated wrongfully, but the words far more fully apply to Christ. In a world where unrighteousness reigns so much, we must not wonder if we meet with those that are our enemies wrongfully. Let us take care that we never do wrong; then if we receive wrong, we may the better bear it. By the satisfaction Christ made to God for our sin by his blood, He restored that which He took not away, He paid our debt, suffered for our offences.
In Psalms 69:22-29, David complains of the unkindness of friends and relations. This was fulfilled in Christ, whose brethren did not believe in him, and who was forsaken by His disciples. Christ made satisfaction for us, not only by putting off the honours due to God but by submitting to the greatest dishonour that could be done to any man. We need not be discouraged if our zeal for the truths, precepts, and worship of God, should provoke some, and cause others to mock our godly sorrow and deadness to the world.
Psalms 69:30-36, David concludes this prayer with a voice of Joy and Praise, with the assurance that God would help and save him. Be assured that God has done the same for us today.
In the gospel of today, we find seventy disciples returning from an assignment given to them by Jesus to use God's power to tread upon serpents and employ this power vigorously against Satan.
The disciples were rejoicing about the fact that they were able to cast out devils, but Jesus cautioned them that they do not place their joy in their actions, but in the fact that their names are in the Book of Life. For now, they journey with Jesus. That journey leads them to do the wonders they did after the resurrection because of their faith in Jesus. They are clearly transformed by the events of Jerusalem. What would it be like to be a disciple? They would be "childlike" and open to God in the same way that Jesus was open to his Father. They have everything! And will need to discover that when Jesus is gone from their midst.
Our journey in faith parallels the disciples' following of Jesus. There is a direct line of revelation and accomplishment: God – Jesus – the disciples – us. Like the disciples, we are invited to follow and to trust in Jesus, the full revelation of God our Father. We must always remember who we represent as we do the work of the Lord.
God wants us to serve Him with Joy and Gladness. No matter how difficult life becomes, rest assured that God has already provided the Best for us.
Let Us Pray: Lord Jesus, give me the grace to always listen to you and to do what you command so that I will bring glory to your name. Amen.