THEY ARE HAPPY WHO FOLLOW GOD'S LAW (Deuterenomy 26:16-19/Psalm 119:1-2,4-5,7-8/Matthew 5:43-48)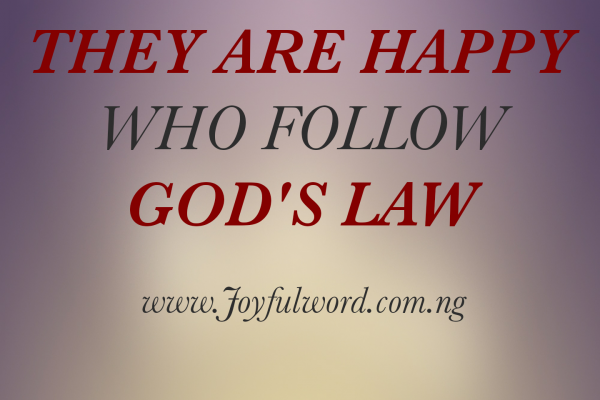 THEY ARE HAPPY WHO FOLLOW GOD'S LAW
(Saturday March 16, 2019)
The essence of God's precepts and commandments is to make us holy and better Christians. When we keep these commandments, they become easier for us to live with and from them see the extent of God's love for us. One of the ways to show how we appreciate and reciprocate to this love of God is to hearken to His voice that enjoins us to resist evil and do good!
The first reading which is a command to the chosen people on the need to obey the commandments of God can as well be applied to us today. Moses said "The Lord your God today commands you to observe these laws and customs; you must keep and observe them with all your heart and with all your soul. 'You have today to make this declaration about the Lord: that He will be your God, but only if you follow his ways, keep his statutes, His commandments, His ordinances, and listen to His voice. And the Lord has today made this declaration about you: that you will be His very own people as He promised you, but only if you keep all His commandments"
We can see from this reading that what goes around comes around. If we keep to God's command, He will indeed be our God but if we fail, we have ourselves to blame. To make us to be assured of the benefit of keeping the Lord's precepts, the Psalmist today said "They are happy who follow God's law! They are happy whose life is blameless, who follow God's law! They are happy who do His will seeking Him with all their hearts.
In the gospel of today, Christ once again tells us how important it is to love everybody even our enemies and those that hate us. This is one of the hardest teachings of Christ but we should strive always to do our best with regard to this Christ's injunction. It is only the grace of God that will make us put this into practice. Therefore, let us use this Lenten period to pray for God's grace to make us perfect as He Himself is perfect.
Let Us Pray: Lord Jesus, help me to make effort to keep your commandments and also to love and pray for those who persecute me. Amen.