THIS IS MY SON, THE CHOSEN ONE, LISTEN TO HIM(Daniel 7:9-10,13-14/Psalm 97:1-2,5-6,9/Luke 9:28-36)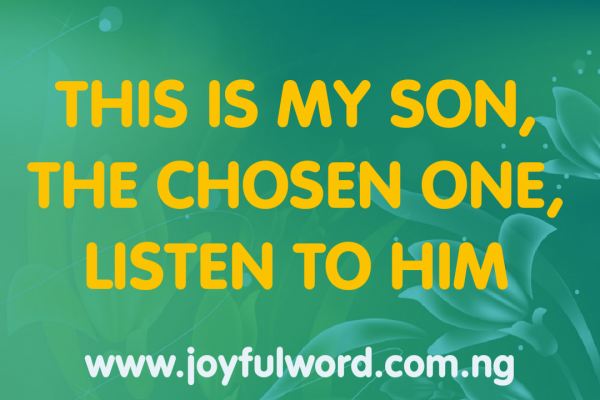 THIS IS MY SON, THE CHOSEN ONE, LISTEN TO HIM
(Tuesday, August 06, 2019 The Feast of the Transfiguration of the Lord)
Like the great mysteries of Christmas and Easter, the Transfiguration of the Lord is also a mystery of light. The Transfiguration of Jesus is one of the major mysteries in the life of Jesus. The mystery of the transfiguration took place shortly after Jesus had disclosed to his disciples that he was going to suffer and die.
They were totally confused after hearing this because they did not expect the messiah to die. Jesus needed to reassure them of the presence and power of God. He took them to a place where they could have a special encounter with God and be free from the many distractions of the world. He wanted them to take a break from a world where there were too many distractions, discordant voices and noise. In their moment of confusion, Peter, James and John were given one instruction from a voice from heaven: to Listen to Jesus and not to their pessimistic thoughts. Jesus wanted them to experience silence, solitude and the peaceful presence of God.
At that moment they saw the glory of God shine in Jesus: "He was transfigured before them; his face shone like the sun and his clothes became white as light (Matt 17:2). More so, Peter had enjoyed this special encounter in God's presence and in his excitement said: "It is good for us to be here." This is what happens when we experience peace and joy in God's presence, or when we invite God into our lives. Peter wanted to remain on the mountaintop where he would be in contact with God alone, but Jesus did not allow him to remain there. Jesus wanted him to return to the valley, where he would encounter people and bear witness to what he experienced. Our 'mountain top experience' is when, where and how we encounter God.
Our moments of transformation could be spurred by a simple or spectacular experience that brought us closer to God or enabled us to see a glimpse of God's glory more than we have ever experienced. We experience our own transfiguration when God transforms us by the power of his amazing grace. Our life is a journey at the foot of the mountain where we meet all kinds of challenges: in our personal lives, professional life, in our relations and in our families. It's through such ordinary life, not easy at times, that we are called to witness our faith, hope and love. Transfiguration is indeed a pat on the back.
At times life becomes hard and often give rise to doubts and discouragement. In some cases, we get to the end of our elastic limit and our strength and feel discouraged to make an inch in the journey of our faith. In such moments, we need some encouragement, a pat on the back so that we can move on. Yes, a little sign of God's presence will do us good.
Let Us Pray: Lord Jesus, give me the grace to listen to the voice of the Father and to do His will always. Amen.