WE ARE AMBASSADORS FOR CHRIST(2 Corinthians 5:14-21/Psalm 103:1-4,8-9,11-12/Matthew 5:33-37)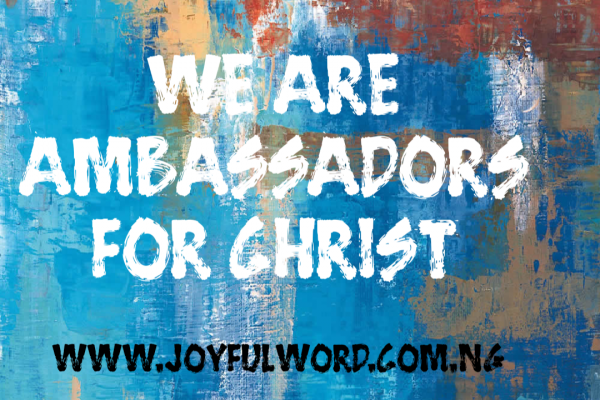 WE ARE AMBASSADORS FOR CHRIST
(Saturday, June 15, 2019)
In the first reading of today, St. Paul has that "for the love of Christ controls us, because we have concluded this: that one has died for all, therefore all have died; and he died for all, that those who live might no longer live for themselves but for him who for their sake died and was raised" (2 Cor 5:14-15) What drove St. Paul to dedicate himself to God and God's church? It was the love of Christ.
The love of Christ controlled him. But, did Paul mean that his love for Jesus compelled Him to follow Christ and represent Christ to the world? Or, did Paul mean that Jesus' love for him, controlled him? Certainly, God loved us so much that He gave His Son to save us from our sin (John 3:16). That love should motivate us to serve God with a whole heart. It is also true that our own love for Jesus should compel us to follow Him faithfully. While Jesus' love came first in giving His life for us, we respond to His love with our own love for Him and for others. Since St. Paul was primarily speaking about what Christ had done for him, Jesus dying for all, Paul probably meant the love that Christ has for us. Jesus' love for St. Paul indeed motivated him to pour out his life for others.
We sometimes forget just how much God has loved us and how that love should radically change us and compel us to share His love. Jesus' love for us is what should control us as it did Paul. One might say that Jesus' love "leaves us no choice". Jesus died for us so that we would no longer live for ourselves, but for Him. When one confesses Jesus as Lord and the Holy Spirit begins to transform that person, there is a major reorientation in that person's life. His love will change the way we live here and now on earth, not simply ensure our eternal life with Him in heaven. Jesus' sacrificial love for us should restrain us from self-seeking, and move us to be a people who are focused on Him. If we are the people of God who have been radically changed by the love of Christ, we will live and love for Jesus. His love for us will move us to view the world and each other as He sees it — in need of Him. Does Jesus' love for you control you in that way? Does it motivate you to share His love with others? St. Paul went on saying "From now on, therefore, we regard no one according to the flesh.
Even though we once regarded Christ according to the flesh, we regard him thus no longer. Therefore, if anyone is in Christ, he is a new creation. The old has passed away; behold, the new has come. (2 Cor 5:16-17). Being in Christ is about being new. People are attracted to new things like new cars, new homes, new babies, and new gadgets. This passage states that those who are in Christ, meaning those who believe in Jesus and confess Him as Lord, are a "new creation". You might not look like a new person, having the same old body with which you were born, but you are a new person in Christ.
The old person who was shackled by sin and death has passed away, and a new person freed by the blood of Christ has been born. We are recreated by the love and grace of God, and the power of the Holy Spirit. To become this new creation, one must choose to be in Christ. You must believe that you are a sinner and in need of a Savior. You must trust Jesus as your Savior and confess Him as your Lord. If you are in Christ, then you are a new person with a new identity. Are you in Christ or are you still in the world, clinging to some other form of identification for yourself? It is an important distinction, because how we see ourselves will determine what we think is important and it will influence what we do. We are called to be Ambassadors for Jesus, to represent Jesus to the world.
The basis of our ministry to the world is our own reconciliation to God through Christ. We offer reconciliation to others because we have been reconciled to God. God's act of reconciling the world continues through the church who has the privilege and the responsibility of proclaiming God's message to the world. God sends us as His official representatives, to announce His "peace treaty" with mankind. We do not act on our own authority but under the commission of the authority who sends us.
Since Jesus no longer walks on earth in the flesh, His people, the church, speak and act on His behalf. We are the hands, feet and mouth of Jesus. We are the ones representing Jesus to the world. If we are truly His Ambassadors, we should try not to live a double standard way of life. Our Yes is supposed to be Yes and our No, No and anything more than this comes from the evil one.
Let Us Pray: Lord Jesus, send forth your Spirit to guide us in all that we do and we represent you well here on earth. Amen.