WHOEVER BELIEVES IN HIM WILL HAVE EVERLASTING LIFE(Acts 8:1-8/Psalm 66:1-7/John 6:35-40)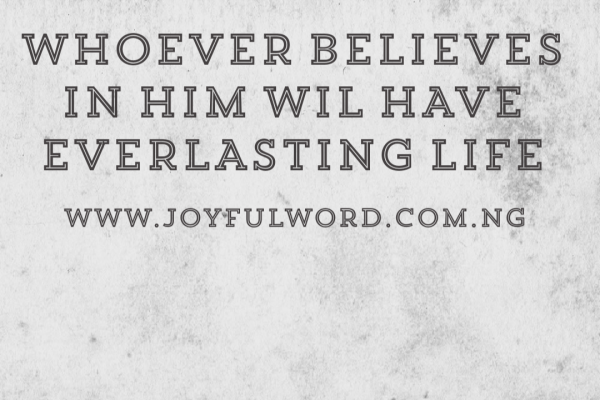 WHOEVER BELIEVES IN HIM WILL HAVE ETERNAL LIFE
(Wednesday, May 08, 2019)
Today the first reading presents us with the great persecution of the early Church which came into full force after the martyrdom of St. Stephen. This was a very significant period in the life of the early Church which contributed immensely and positively in spreading the faith of the nascent Church. The early persecution of the Church may be not completely viewed as something negative. Yes, it was indeed a hard period that gave rise to positive growth in the history of the Church.
Had it been that the persecution did not happen the time it came, which led to the dispersion of the early Christians to the neighboring towns and villages, far and wide that surrounded Jerusalem, who knows whether the mandate that Christ gave His Apostles and disciples to go out to the whole world and preach the Good News to all creatures would have been actualized.
Without this moment of severe persecution that happened in Jerusalem coupled with the threats of the Jewish authorities, Saul and others, the Church would have been a Jerusalem thing and the Apostles themselves would have found it difficult to move out of Jerusalem because Jerusalem had been as their comfort zone. As recorded in the reading that those who escaped the threats of Saul and other enemies of the Church went to different places preaching the Good News and one of them was the Apostle Philip who went to a Samaritan town and proclaimed Christ to them. God indeed used this seemingly negative period to establish the Church to different places.
This was the miracle of the time: negativity turning to positivity. The reading of today is also an encouragement to us especially when we are facing it had. Let us not lose hope, who knows what the situation will turn out to be tomorrow. What we need is to exercise patience with God, keep praying and persevering till the end. Our God is indeed God full of surprises who attends to us when we think that we are at the end of the road.
Yes, it was not easy for our fathers in faith to propagate the Good News, thousands of them were martyred just because they were working and bearing witness to Christ and the truth. That is why we normally say that the blood of the martyrs is the seed of the Church. No wonder then Christ said for whoever wants to save his/her life will lose it and whoever loses his/her life for my own sake will find it (Matt 16:25).
Let Us Pray: Lord Jesus, give me the grace to persevere in times of persecution and may I continue to proclaim your name always. Amen.