WHOEVER FOLLOWS ME, SAYS THE LORD, WILL NOT WALK IN DARKNESS(Wisdom 9:13-18/Psalm 90:3-6,12-14,17/Philemon 9-10,12-17/Luke 14:25-33)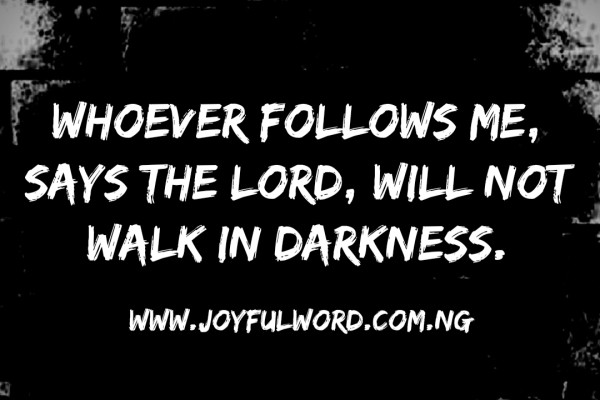 WHOEVER FOLLOWS ME, SAYS THE LORD WILL NOT WALK IN DARKNESS
(SUNDAY, SEPTEMBER 08, 2019
23rd SUNDAY IN THE ORDINARY TIME, YEAR C)
The First Reading today began by asking the question: "who can know God's counsellor who can discern God's will (intention)?" God's will is not what we know by mere mental processing. God's will is too enormous to be accommodated in our limited mental timeline. In fact, the passage made us know that our reasoning and deliberations are limited, worthless and fallible.
"How then can we know or learn the will of God considering our limitations?" We can do so by purposefully following God. By following God, He leads us into the discovery and doing of His will. This actually formed the basis of the Gospel today (Luke 14:25-33).
Today's gospel might be hard to comprehend. What about Christianity and family values? Jesus says that whoever comes to Him to be a disciple should hate his own family and even himself. The strong statement in the gospel of today goes thus "If anyone comes to me without hating his father and mother, wife and children, brothers and sisters, and even his own life, he cannot be my disciple." In some biblical commentaries, the opposite of hate in the Hebrew language is not love, the opposite of hate is "prefer." The word hate is not as strong in the language Jesus is using as it would be if He were saying it in English.
I think what Jesus is really saying is that putting anything before God is the wrong answer. Putting your family before God or putting your own interests before God is not going to get you where you want to go. If your family or your desires distract you from God, they have to go. He says a builder calculates his plan and expenses to make sure he can accomplish his construction. A king has a battle plan and calculates his chances of success. Our goal is not a building or a battle victory.
Our goal is heaven. And to get to heaven, we need the focus of a site manager or a battle general. The manager who gets distracted and does not keep focused on the building might not have a construction that will be sturdy and stands the taste of time. The king who gets distracted and does not focus on his goals will lose his battle. If we get distracted and lose this battle, the ramifications are eternal. If we put anything before God, our edifice might crumble; we will not gain our victory. Our goal will slip away.
Again what Christ is asking in this gospel reading is that we have to be committed if we want to be His disciples and followers. This decision to follow Him has to do with total detachment from anything that may turn out to be an obstacle to it. When we take a closer look on Christ's earthly life, we will discover that He was completely committed, devoted and resolute in accomplishing the work assigned to Him by His Father. Also, He detached Himself from those things that would have made Him not to accomplish this divine assignment. Christ is not literarily telling us here to hate our parents, husband, wife, children, brothers, sisters and neighbour in order to fulfil the obligation of following Him.
Let us not forget that one of the basic obligations of being His true disciple and authentic Christian is to love one another and our family members are the first group of people we need to show this love because charity begins at home. So commitment and detachment are the watchwords in this Christ's statement.
Christ is also telling us today that "I have come to save the world and I have come to save it through sacrificial love". And it's the only way to save it. we must sacrifice and love through sacrifice. It's not a daisy chain. It's not a happy dance. It's a commitment that we in our very hearts must make in order to be His true followers. Resolution is very important in our Christian lives if we want to achieve something and build our spiritual life in Christ.
And so what Jesus is saying is, "whatever stands in your way of following me as we walk together for a great cause to bring God's love and forgiveness to the whole world should be abrogated. We need to walk away from all that stands in the way of embracing whatever brings love, whatever brings forgiveness, whatever brings new hope, whatever brings new faith to people. The call to true discipleship requires total commitment. We must commit ourselves to it, we must commit our hearts, we must commit our souls and our entire being to it.
The first reading says that it is hard to know what God wants because God is in heaven and we are on earth, for now. And Jesus says that we have to set our sights on heaven. We need to stay focused on that goal and not let anything earthly be a distraction. But if anything on earth is a distraction from your heavenly goal, you need to renounce that and focus on heaven.
Let Us Pray: Lord Jesus, give me the grace to detach myself from the things of this life in order to focus on the things of heaven. Amen.