WHOEVER LOVES ME WILL KEEP MY WORD, SAYS THE LORD(Ephesians 2:19-22/Psalm 19:2-5/Luke 6:12-19)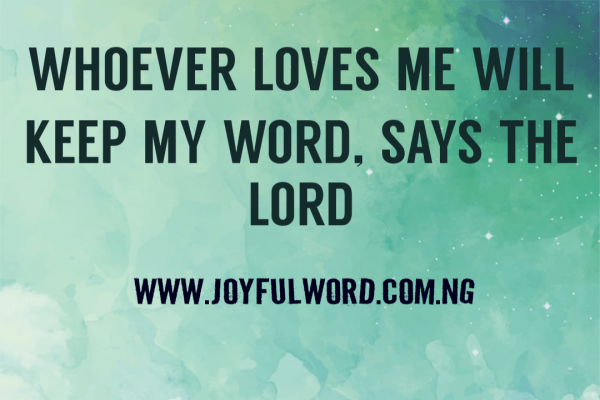 WHOEVER LOVES ME WILL KEEP MY WORD, SAYS THE LORD
(MONDAY, OCTOBER 28, 2019
THE FEAST OFSAINTS SIMON AND JUDE, APOSTLES)

Today we are honouring Sts Simon and Jude, who are among the twelve Apostles. Jude is also the author of one of the letters contained in the New Testament and was possibly a nephew of St. Joseph, Our Lord's foster father. Tradition holds that Simon and Jude travelled east from Palestine into what was then Persia to bring the Gospel to the nations, and they both died as martyrs. Jude is also perhaps best known to us as the patron saint of hopeless causes.
On the Feast of Saints Simon and Jude today, we read Luke's account of Jesus' selection of the twelve apostles. Each member of the group had a unique story to keep. One was a rebel (Simon the Zealot) while another was a conspirator of the Romans (Matthew the tax collector); one was always in the limelight (Peter) while two others were virtual unknowns (Simon and Jude).
Today's liturgical feast highlights the unknown spectrum of this apostolic group as it invites us to ho-nor Saints Simon and Jude. Simon is so unknown to us that we are not even sure if he is Simon the Zealot as mentioned in the Gospel of Luke, or Simon the Canaanite as mentioned in the Gospel of Mark. Jude too comes to us similarly veiled with anonymity. Luke calls him "Jude the brother of James," while Matthew calls him "Thaddeus." With the scanty biblical information about Saints Simon and Jude, we can only maximize the few statements attributed to them by the Gospels.
We find only one passage (from John's Gospel) about a certain Jude but none about Simon. John the Evangelist wrote: "Judas (not Judas Iscariot, but the other disciple with that name) said to him, "Lord, why are you going to reveal yourself only to us and not to them?" (John 14:22). If this can be attributed to Jude this passage gives us an idea of how others-oriented he was. He wanted the whole world to know and love Him. From here we can infer the depth of his missionary zeal. Jude's missionary zeal was ablaze despite the clouds that still veiled the identity of Jesus at that time.
His missionary zeal embarrasses us because although we have behind us a thick layer of faith history assuring us of Jesus' identity, we are not as excited to spread the faith. Living the faith is enough to turn us into constructive preachers because of witnessing's inherent power to impart the faith. This we are not even doing well. May missionary zeal of Saints Simon and Jude challenge us to share the faith at least at the level of witnessing by living our faith.
Today as we hear the names of the saints during Mass, let us remember that they were men and women like ourselves who loved God and others generously throughout their lives. We are called to be the saints of today, who give the Church life and make Jesus present in today's world. May Saints Simon and Jude intercede for us that we may follow their example on earth, and someday join them in heaven.
Let Us Pray: Lord Jesus, give me grace to devote my life to your service and may my witnessing bear fruits for you in this life. Amen.