YOU MUST LIVE YOUR LIFE FOR CHRIST WHOM YOU HAVE RECEIVED(Colossians 2:6-15/Psalm 145:1-2,8-11/Luke 6:12-19)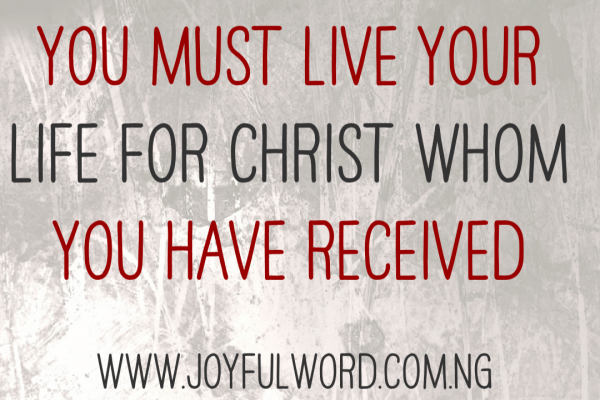 YOU MUST LIVE YOUR WHOLE LIFE FOR CHRIST WHOM YOU HAVE RECEIVED

(TUESDAY, SEPTEMBER 10, 2019)

The first reading today is a powerful exhortation from St. Paul. I think this reading has a lot to impact on us and it summarizes our daily struggles to live according to our Christian identity. St. Paul shares with the Colossians the only self-improvement any of us need to know. The opening statement of this reading goes thus "You must live your whole life according to the Christ you have received. You must be rooted in Him and built upon Him and established in the faith as you were taught, abounding in thanksgiving.
See to it that no one captivates you with an empty, seductive philosophy according to the tradition of men, according to the elemental powers of the world and not according to Christ. For in Him dwells the whole fullness of the deity bodily, and you share in this fullness in Him, who is the head of every principality and power" With this powerful exhortation, St. Paul has given us a guideline to follow if we want to remain faithful to the call God has given us as followers of Christ.
Today, Jesus specifically and clearly tells us that the election of the twelve apostles —central decision for our Church's future life— was preceded by a full night in prayer alone, before God, His Father. How was the Lord's prayer? What can we deduce from his life, it must have been a prayer full of confidence in the Father, of complete surrendering to His will —«for I seek not to please myself but Him who sent me» (Jn 5:30)—, of a clear union to God's work of salvation.
Only through this profound, long and constant prayer —supported always by the action of the Holy Spirit that, at the moment of Jesus' Incarnation, had already fallen over Him in His Baptism— could the Lord receive the necessary strength and light to go on with His mission of abiding by the Father to accomplish His work of salvation for mankind. Christ in the gospel of today taught us not only the importance of prayer but also how to present our major decision to God before executing it. I think that of the selection of the 12 Apostles was a major decision during Christ's missionary work and He first presented it to the Father through prayer to the extent that He spent the whole night with God.

Today we think of "prayer" as a type of communication with or meditating about God – thanking, praising, imploring, and so forth. With the benefit of post-Resurrection hindsight, we accept Jesus as Son of God, and we are not surprised therefore to read that He would spend some time communicating with His Father.
The word "prayer" in the New Testament almost always means ask, or implore, or plead. When Jesus went off by Himself to "pray", He went off to ask His Father something. Jesus just like St. Paul in the first reading has provided us also with a guideline on how to make prayer part and parcel of our Christian life.
Let Us Pray: Lord Jesus, give me grace to live my life well do that others will come to follow you and believe in your through my words and action. Amen.