A WORD FOR TODAY 04 JAN 2019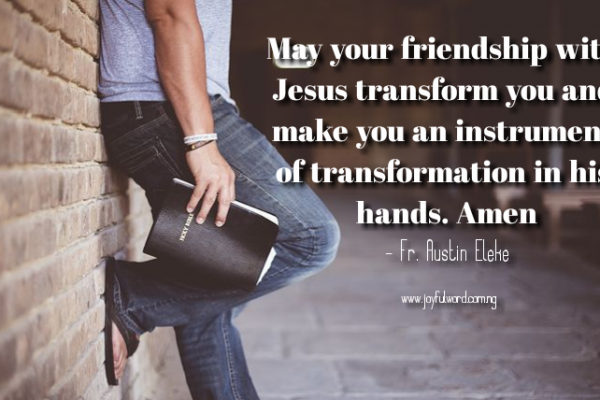 Jesus is the lamb of God who takes away the sin of the world. John pointed Him out in the gospel reading today and two disciples followed Jesus and inquired where he was staying and after their encounter with Him they did not want to leave him anymore, instead they tried to bring more people to come and encounter Him.

We only need an encounter with Jesus in order to be transformed. We need to seek daily to dwell in His presence and be touched by His glory and we will become instruments of evangelization in His hands.

Our aim as God's children should always be to do what is right before Him and be righteous. For us to sustain this kind of lifestyle we must stay close to Jesus and avoid exposing ourselves to the master of deception, the devil.

We are God's children and His seed has been planted in us and for it to grow we must learn to walk with Jesus and get nourished by His word on a daily basis. This will help us to live a holy life and avoid sin.

If you are held bound by the power of sin, do not give up, but simply come to Jesus and He will set you free. The reason he came was to destroy the works of the devil and set us free from the power of sin. We cannot be with Jesus and still live in sin, instead there should be a sincere and honest effort from us to be like Jesus in a things and in all places.

Good morning dearest one. Smile😊as you do your work and do have a wonderful day. May your friendship with Jesus transform you and make you an instrument of transformation in his hands. Amen. And May the Almighty God bless you: the Father and the Son and the Holy Spirit. Amen.

Meditation: 1 John 3:7-10/Psalm 98: 1,7-9/John 1:35-42

Watch-Word: We are God's children and we should be like Him always!

We belong to Christ, sometimes we fall, but we can rise again if we hold his hand. Give Him your hand now and He will lift you up and you will go out and witness for Him.