A WORD FOR TODAY 1 APRIL 2020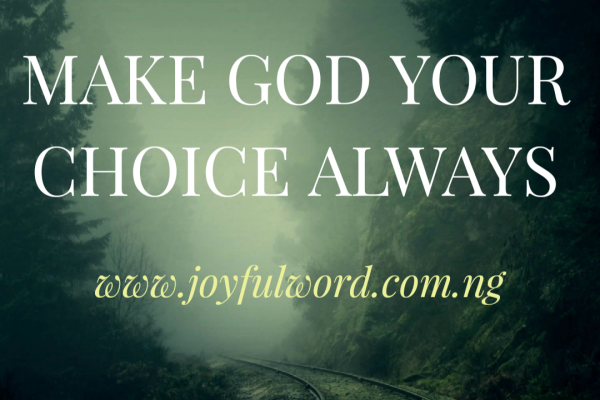 A WORD FOR TODAY
MAKE GOD YOUR CHOICE ALWAYS
"Shadrach, Meshach, and Abed′nego answered the king, "O Nebuchadnez′zar, we have no need to answer you in this matter. If it be so, our God whom we serve is able to deliver us from the burning fiery furnace; and he will deliver us out of your hand, O king. But if not, be it known to you, O king, that we will not serve your gods or worship the golden image which you have set up." (Daniel 3:16-18)_
If you do not make the decision to follow God and to grow your faith deeply in Him, you may not be able to stand your ground when temptations and persecutions come your way.
The story of the first reading of today from the book of Daniel shows us what it means to know God, believe in Him and to have absolute trust in His ability to take care of us at all times.
Shadrach, Meshach and Abadnego were threatened by the King Nebuchadnezzar to abandon the living God and to worship his god. They would have made the choice to do what the king says out of fear, but they courageously told the king that they knew that God eill deliver them, but even if He fails to come to their aid, they will never bow down to any man made gods.
At the end of this encounter they came out victorious, because God was with them and He became the fourth man in the fire to shield them from its effects. The king was touched by what he saw and he abandoned his old way of life and accepted the God of Shadrach, Meshach and Abadnego.
We must learn from them to believe God and trust in Him to take care of us at all times, in good and in bad times. We must never give up, rather we should make the choice to never bow to other gods except to the true and living God. God should be our choice always and if we choose Him above other gods, we will never regret because He will take care of us and give us victory as He gave to His Son our Lord Jesus Christ.
As Covid 19 ravages the world, do not panic, but stay safe by taking precautionary measures. Wash your hands regularly with soap and running water, stay at home, have hand sanitizers and use them always. Eat healthy food, practice social distancing, lie low on things. But more importantly, as you do all that the doctors have recommended that we do, Pray to God and have faith in Him to show us mercy and let this plague come to an end. May this new month of April be the beginning of joy and restoration in our lives and world.
Good morning dearest one. Smile😊as you do your work and do have a blessed New month. May God deliver you from that which seeks to destroy you. Amen. And nay the Almighty God bless you: the Father and the Son and the Holy Spirit. Amen.
Meditation: Daniel 3:14-20,24-25,28/Daniel 3:29-30,31-34/John 8:31-42
Watch-Word: If the Son of man sets you free, you are free indeed
God will never fail to save those who put their trust in Him. Therefore, do not be afraid, but believe in Him at all times.
(Wednesday of the fifth Week of Lent: Day 31)