A WORD FOR TODAY 1 JULY 2020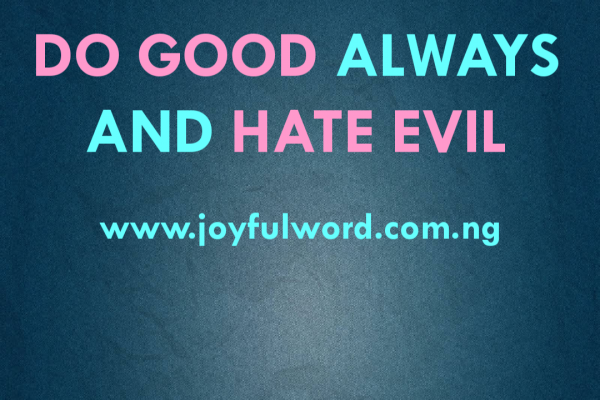 A WORD FOR TODAY
DO GOOD ALWAYS AND HATE EVIL
"Seek good, and not evil, that you may live; and so the Lord, the God of hosts, will be with you, as you have said. Hate evil, and love good, and establish justice in the gate; it may be that the Lord, the God of hosts, will be gracious to the remnant of Joseph."(Amos 5:14-15)_
God is light and anyone who wish to follow Him must be ready to walk in His light. He represents good not evil, light not darkness. God created us to love him and to serve Him here on earth, but if we do not make the choice to live in the light, our hearts will be filled with evil and we will not be able to please Him.
The Lord through the prophet Amos tells us in the first reading of today to seek good and not evil, so that we may live. We will definitely lose a lot if we choose evil above good and if we love injustice above justice. First, our friendship with God will be severed, because God does not condone evil, secondly we will lose blessings and favours that are attached with goodness._
For us to be able to please God in this life we must hate evil and everything that represents it in our lives, but we must love good and strive everyday to be good and to do good. God is goodness Himself and whenever we do good we represent God, but when we do evil, we represent darkness. As children of God, it is our duty to show the world who God is through our way of life. We must always live for God and please Him if we intend to live with Him in heaven.
We must hate evil, because evil destroys those who patronise it. We must hate evil, because it will make our prayers not to be answered. We must hate evil, because it will make our sacrifices and burnt offerings not to be acceptable in the sight of the Lord. Do good always and you will be rest assured of God's divine blessings upon you. To do good is to be kind, merciful, compassionate, it means to share your food with the hungry, clothe the naked and to speak for the oppressed and so on.
If you think that evil has taken hold of you, do not give up, cry out to Jesus today and He will do for you what He did to save the men who were possessed by demons as we have recorded in the gospel reading. The power of Jesus can set you free if you will come to Him today. Waste no time, return back to the Lord and your light of goodness will shine again and evil will stay far away from you.
Good morning dearest one. Smile😊 as you do your work and do have a blessed and miraculous new month of July. May God lead you and may you do more good in this month and always. Amen. *And may the Almighty God bless you: the Father and the Son and the Holy Spirit. Amen.
Meditation: Amos 5:14-16,21-24/Psalm 50:7-13,16-17/Matthew 8:28-34
Watch-Word: To one whose way is blameless, I will show the salvation of God.
God is goodness and we must love good above evil if we intend to be like Him. Keep doing good and your prayers will be answered.
(Wednesday of the thirteenth week in the ordinary time. Year II)