A WORD FOR TODAY 1 JUNE 2020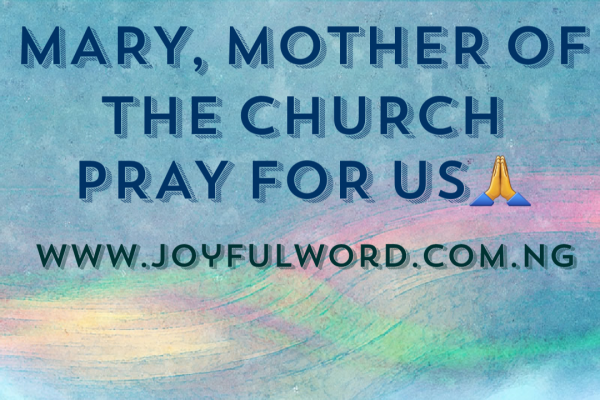 A WORD FOR TODAY
MARY, MOTHER OF THE CHURCH, PRAY FOR US
"But standing by the cross of Jesus were his mother, and his mother's sister, Mary the wife of Clopas, and Mary Mag′dalene. When Jesus saw his mother, and the disciple whom he loved standing near, he said to his mother, Woman, behold, your son! Then he said to the disciple, Behold, your mother! And from that hour the disciple took her to his own home. (John 19:25-27)_
Today the Church celebrates the memorial of Mary, Mother of the Church. It is a feast in which we reflect on the maternal role our Lady played at the beginning of the Church and has continued to play even as she has returned back to the father.
_The role of a mother in a home is something that cannot be replaced by anything. We are all happy when our mother is around and they help us to grow up doing the things that will help us to have a blessed future.
Our Mother Mary has always been there from the beginning helping the Church and she has never failed in her role as our mother. She takes care of us and protects us from the ravaging attacks of the forces of evil that are striving to bring down the Church, her ministers and her children.
Our Lord Jesus Christ in the gospel reading of today handed over the young Church into the hands of our Mother Mary and also handed our Mother Mary to the hands of the Church. It will be the responsibility of the Church to honour her and let the world know about her and she will take care of the Church as a Mother and will speak on our behalf always before her Son in heaven as she did at the wedding at Cana.
Our Blessed Mother is always ready to intercede for us and take care of us if we fly to her protection. We must come to her always and seek for her maternal intercession, because the efficacy of her prayers and motherly care cannot be compared to anyother. We ask her to pray for us and obtain for the Church and for us her children all that we seek and all that we will need to be happy in this life and in the world to come.
Good morning dearest one. Smile😊as you begin your day and do have a blessed new month. May our Mother Mary take care of you as she is taking care of the Church and may her love for you inspire you to love others also. Amen. And may the Almighty God bless you: the Father and the Son and the Holy Spirit. Amen.
Meditation: Genesis 3:9-15,20/Psalm 86/John 19:25-34
Watch-Word: We fly to your patronage, O holy Mother of God.
The Blessed Virgin Mary is a Mother like no other and if we come to her she will take care of us ad she is taking care of the Church.
(Monday of the Ninth week in the Ordinary Time. Year II. Memorial of Mary, Mother of the Church.)