A WORD FOR TODAY 1 MAY 2020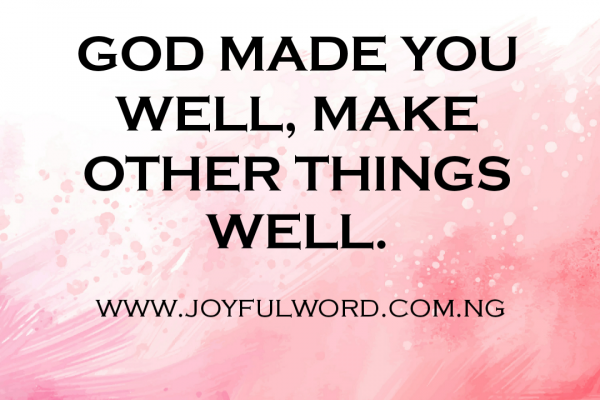 A WORD FOR TODAY
GOD MADE YOU WELL, MAKE OTHER THINGS WELL
"So God created man in his own image, in the image of God he created him; male and female he created them. And God blessed them, and God said to them, Be fruitful and multiply, and fill the earth and subdue it; and have dominion over the fish of the sea and over the birds of the air and over every living thing that moves upon the earth."(Genesis 1:27-28)_
Today, the first day of the month of May the universal Church celebrates the memorial of saint Joseph the worker. It is a day we celebrate a man who worked hard to take care of his family and has become a symbol of hard work and dignity in labour for all those who wish to add value to the work that they do.
The first reading of today presents us with the creation account which simply proves that God was never lazy, but worked very hard in creating all that He did and the crown of all His wonderful creation is man. He created man in His own image and likeness and gave him the power to continue to create and to fill the earth and subdue it.
God made us well, because at the end of His creation activity He saw that all was good and He rested from His work. He has left us an example to work and to continue to make other things well and also to find time to rest in the course of our work.*_
In the gospel reading, Jesus was busy doing the work He was sent to do, but the people as a result of familiarity looked down on Him and refused to accept Him simply because they felt they knew who his parents are and there is no way someone from such background could have such wisdom as He is displaying. We must strive not to look down on people because of their background or the menial job they do. Our priority at any point in time will be to uphold the dignity of the human person and to give people joy and hope through the work that we do.
We have a responsibility to work hard just like God and also like saint Joseph, because laziness will not put food on our table. We must also create an enabling environment for those who work for us to be happy in their work. We must continue in God's creation and we must try as much as we can to do our work well for the good of humanity. We must be conscious of the fact that what we do affects others, therefore, it is important to do it well so that they will be touched positively and not the other way round. Finding time to rest in the course of our work is also very important, because if we don't, we will breakdown and when we do, it will be difficult for us to function to maximum capacity.
God has made us well by giving us life and opportunity to excel, it is a duty we owe Him to make other things well. We must not do things with half measure. Wherever you are and whatever you do, simply let excellence be your watch-word and you will be like God and like saint Joseph who did all he could to take care of Jesus and our blessed Mother through His hardwork and dedication as a carpenter and as a Father.
As we begin the May devotion to our Lady today through the recitation of our Rosary, let us pray that through her maternal intercession we may learn how to be responsible and to carry out our duty well in such a way that those who look up to us will be inspired and we will continue to make the world a better place.
Good morning dearest one. Smile😊as you do your work and do have a magnificent day new month. May God bless and prosper the work of your hands and may joy return back to you after your moment of pain. Amen. And may the Almighty God bless you: the Father and the Son and the Holy Spirit. Amen.
Meditation: Genesis 1:26-2:3/Psalm 90:2-4,12-16/Matthew 13:54-58
Watch-Word:* Give success to the work of our hands , O Lord.
Pray always, because God answers prayers, but work hard and aim for excellence, because God cannot do for you what you can do for yourself.
(Friday of the Third week of Easter. Cycle A. Memorial of saint Joseph the worker.)
*Happy New Month of May and may God bless all the workers and help those who have nothing doing to find something meaningful to do. Amen.
*Fr. Augustine Eleke*