A WORD FOR TODAY 10 AUGUST 2019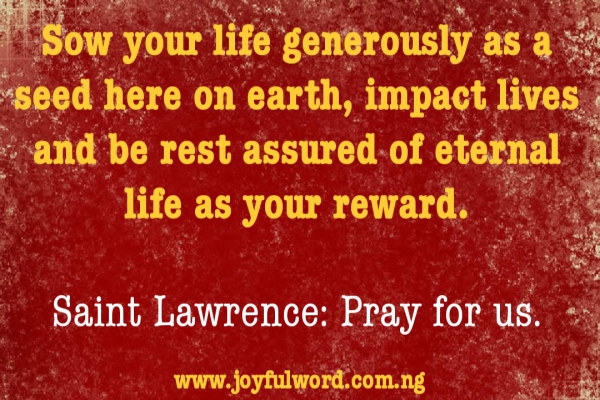 A WORD FOR TODAY
Today we celebrate the feast of saint Lawrence, a 3rd century deacon of the Church of Rome who suffered martyrdom in the hands of Emperor Valerian for refusing to hand of over the goods of the Church to Him.
This feast is one that reminds us of what it truly means to be a a disciple of Jesus. Saint Lawrence was wise to distribute the temporal goods of the Church to the poor and the needy in order to preserve it and when he was asked to hand over the goods of the Church he showed them the poor, the sick, the maimed and so on as the true treasures of the Church and He was killed as a result of that.
Our following Jesus will not make any sense if we do not sincerely in our heart make sacrifices to practically proclaim His name in words and deeds even to the point of shedding our blood as saint Lawrence did. He gave his life cheerfully to God and sowed it generously in this life and today he has received his reward bountifully in heaven and his name will never be forgotten.
Do not let your life be a waste in this earthly journey which is very limited. Start to sow the kind of seed that will make the world remember you when you are gone and also make heaven to open its doors for you as a worthy ambassador coming back home after a meritorious service here on earth. You are in this world for a purpose, find it out and live it out well for the good of humanity and to the greater glory of God.
Be generous with your time talent and treasure and keep sharing whatever you have with those who do not have and will not be able to pay you back especially the poor, sick, orphans, widows, abandoned children, homeless people and so on. Give yourself cheerfully always, for in doing so you are preserving the goods of the Church for the future.
Saint Lawrence fell like a wheat on the ground and died and he has yielded abundance of rich harvest. He died for a good cause. He served the Lord well here on earth and paid the ultimate price and sacrifice of martyrdom with his blood and today the Father has honoured him in heaven and the world rejoices for his heroic virtue of living the faith in a time of persecution with steadfastness.
Good morning dearest one. Smile😊as you do your work and do have a wonderful weekend. Strive more to let God make use of you here on earth for a good cause so that you will inspire others to do the same when you are gone. Amen.
And may the Almighty God bless you: the Father and the Son and the Holy Spirit. Amen.
Meditation: 2 Corinthians 9:6-10/Psalm 112:1-2,5-9/John 12:24-26
Watch-Word: God loves a cheerful giver.
Sow your life as a seed of inspiration to humanity so that at the time of harvest you will reap the fruit of eternal life. #Make a positive impact in this world with your life.