A WORD FOR TODAY 10 FEBRUARY 2020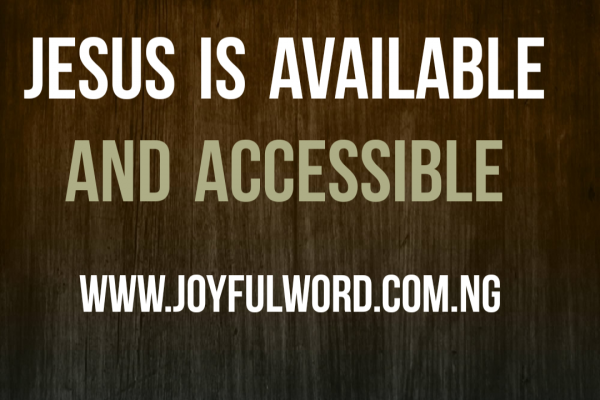 A WORD FOR TODAY
JESUS IS AVAILABLE AND ACCESSIBLE
When you go to buy a drug from a pharmacy and they tell you that the drug is not available, you will not be happy especially when that shop is one of the best in town where you can get good drugs. Another example will be to have someone elected into a public office to serve the people and they will become inaccessible and not available all of a sudden as a result of their being intoxicated with power or their new found status.
This is not the same with Jesus. He is always available and accessible to those who seek Him and His desire will be that those who come to Him will find the help and assistance they need. Anyone who seek Him with their whole heart will find Him because He is always available and can be reached by those who approach Him with faith.
In the gospel reading of today we see how the people recognized Him when He came to their city and they gathered all those who were sick to come and touch Him so that they could get healed. Jesus did not stop them, but in compassion and love made Himself available and accessible for the good of those who were in need of His help.
We must learn from Jesus to be available and accessible. Since we carry the message of the Good News in our heart, we must share with others. Our goodness must attract people to us and when they encounter us they should get better and not worse.
In this age where some pastors, men and women of God and even ministers of the gospel could no longer be reached, because of their so called acquired 'new status'. You will even write application and pay some fees before you will be attended to or even be prayed for, this example of Jesus becomes very important if we are going to be true disciples of our Lord.
We must make ourselves available and accessible to those in need and through us they will come to find healing, joy, peace, transformation and so on. Never deny people opportunity to find Jesus through you.
Today the Church celebrates the memorial of saint Scholastica (480-547). She is the twin sister of saint Benedict. She was dedicated to God from her early age and she spent herself for the good of others for the sake of Christ. We must learn from her to spend ourselves for the good of those in need.
Good morning dearest one. Smile😊as you do your work and do have a blessed new week. May God's availability when you seek Him move you to be available and accessible to those in need who will come to you. Amen. And may the Almighty God bless you: the Father and the Son and the Holy Spirit. Amen.
Meditation: 1 Kings 8:1-7,9-13/Psalm 132:6-7,8-10/Mark 6:53-56
Watch-Word: As many as touched Him were made well.
God has given you something you will give to others, try to be available and accessible so that they can get it from you.
(Monday of the fifth week in the Ordinary Time, Year II)