A WORD FOR TODAY 10 JANUARY 2020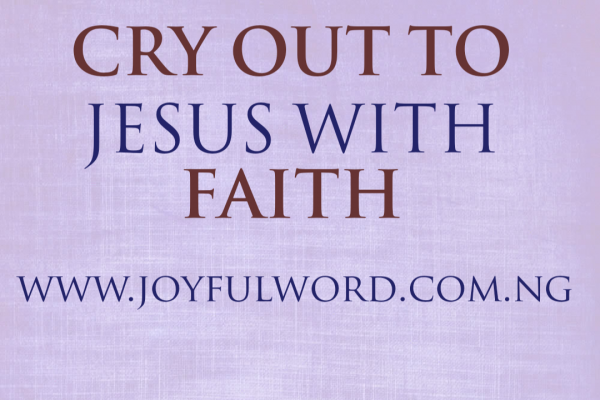 A WORD FOR TODAY
CRY OUT TO JESUS WITH FAITH
To have a problem is not the issue, but what you do when you have one is a different thing all together. It is one thing to have a problem, but it is another thing to know what to do or who to go to so as to find the help you need.
The first reading of today tells us that anyone who believes that Jesus is the Son of God will conquer the world. To believe in Christ is to have faith in Him and when you have faith in Him there is no situation in life that you cannot conquer. When you have Jesus, you will have eternal life and He will take care of you at all times.
The leper in the gospel reading of today identified Jesus as his helper and he was not ashamed to beg for His help. He asked Jesus to heal him if He wills it and the response he got from Jesus was instant healing because it is the will of Christ that he will be healed._
We must strive to grow in our faith to know that God cares for us and is readily available to help us overcome our challenges, therefore do not be ashamed to cry to Him for help for He will never fail you. He loves us and is ready to help us if we are ready to draw near to Him.*_
In prayer we let the Lord know what we need and Jesus Himself prayed to the Father always, showing us that there is power in prayer, He will always come from the presence of his Father to heal and bless the people and from the presence of the people He will return to His Father in prayer to give Him thanks and praise. We must learn from His example and present our petitions to Him in prayers with faith and we will surely find the help we need.
Leprosy signifies uncleanness, however, Jesus identified with the leper and made him clean. What is your own uncleanness? what is the pain you carry in your heart? what is that burden that is weighing you down and eating you up? Now is the time to cry to Jesus for help with faith and be rest assured that He will do something to help you get well again.
Good morning dearest one. Smile😊as you do your work and do have a magnificent day. May Jesus come to your aid and may He heal you and restore your joy. Amen. And may the Almighty God bless you: the Father and the Son and the Holy Spirit. Amen.
Meditation: 1 John 5:5-13/Psalm 147:12-15,19-20/Luke 5:12-16
Watch-Word: He who has the Son has eternal life.
Do not be ashamed to call upon Jesus in your time of need, because He can do all things and He will make a way for us where there seems to be no way
(Friday after Epiphany, Year A)