A WORD FOR TODAY 10 JUNE 2019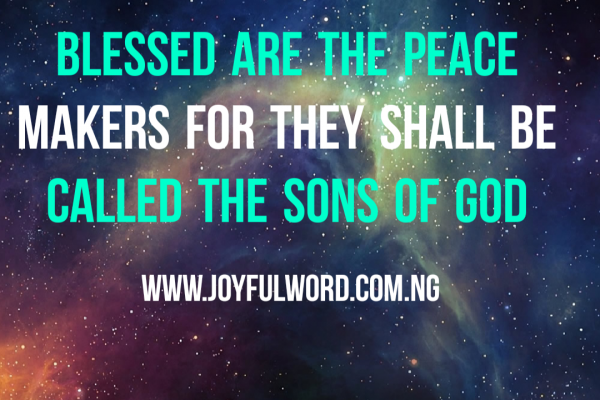 A WORD FOR TODAY
With the celebration of the Pentecost Sunday, the season of Easter has ended and today we begin the season of the ordinary time. Today the Church celebrates the memorial of Mary Mother of the Church. It is a memorial which reminds of the role our Mother Mary is playing in taking care of the Church. She gave birth to Christ the head of the Church. She was there at Calvary when Jesus handed her over to John the beloved and handed John over to her. She was also there with the apostles at the upper room when the Holy Spirit came upon the Church.
Our Mother Mary's role in taking care of the Church and interceding for her children cannot be over-emphasised. She supports us and helps us to do God's will so that we will please God and find joy and happiness in this life.
In the gospel reading of today, Jesus proclaims the beatitude in the famous sermon of the mount. This principles laid down by Christ will bring happiness to those who apply them in their lives and live it out. It involves detachment from the material things of life, but the end product is joy, happiness and blessedness.
Anyone who intends to follow Christ must be ready to be poor in spirit, meek, hunger and thirst for righteousness, pure in heart, be a peace maker, endure persecution and so on. This is Jesus' way and there is no alternative to it if we wish to be happy in this life and in the world to come.
As saint Paul noted in the first reading, the Lord gives us comfort in our times of affliction so that we will be able to comfort others and help them to remain strong in following Christ in their times of pain. Therefore, we have a responsibility to keep representing Christ always who has called us to follow Him.
Our Mother Mary followed Jesus until the end and she endured her pain and affliction and today she is in heaven interceding for us her children and obtaining for us the grace to persevere till the end.
Good morning dearest one. Smile😊as you begin your day and do have a blessed new week. May Jesus be with you and may He help you to keep working hard to live by the principles of the sermon on the mount. Amen. *And may the Almighty God bless you: the Father and the Son and the Holy Spirit. Amen.
Meditation: 2 Corinthians 1:1-7/Psalm 34:2-9/Matthew 5:1-12
Watch-Word: Taste and see that the Lord is good!
To live a blessed life we must follow the principle of blessedness laid down by Christ.