A WORD FOR TODAY 10 NOVEMBER 2019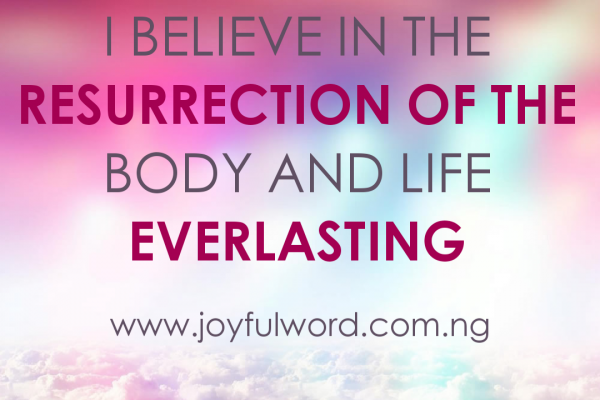 A WORD FOR TODAY
I BELIEVE IN THE RESURRECTION OF THE BODY AND LIFE EVERLASTING
It is a fact of life that people are born and it is a fact of life that people die. We come into the world through birth and we leave the world through death, however, for those who do not have faith, death is an annihilation, and once we die everything ends, because for them there is no life after here. But for those who have faith and believe in God, life is not ended but changed. There is life after this life and if we believe in Christ and die in Him we must rise unto eternal life in heaven.
Even from the ancient times, although the Israelites did not believe in another life, they later came to speak about it some years before the coming of Christ. This is manifest in the response that the seven brothers in our first reading of today gave to the king as their faith was been tested. They had an imperfect idea or knowledge about the resurrection, because they expected to receive the same kind of body and everything they had here on earth from the lord and may be, with little improvement.
The faith of the seven brothers were tested and they were tortured to death by the king to abandon their faith and transgress the law of the Lord. However, they remained steadfast and accepted death, because they believed that God will give them another life. This is faith in action. The test of faith can come in the form of violence, torture, calumny, punishments, other forms of persecutions and even death. We must not give up or abandon God at such moments, but we must stand our ground and profess our faith, because God will take care of us and He will give us another life in His kingdom.
Jesus in the gospel reading now gives a clear and succinct explanation of what life after here will be. For those who believe in God and die in Him, they will rise again, but they will be transformed to an imperishable body as that of the angels. They will not need to marry or be given to marriage, but they will be like God and they will see Him face to face. Our Lord, is God of the living and not the dead, for all live to Him.
If Jesus had not risen from the dead, our lives here on earth would have been meaningless. But He died and He rose and He said, 'I am the resurrection and life. He who believes in me, even though he dies, will live again, and whoever lives and believes in me will never die' (John 11:25-26) This is is our hope and it dies not disappoint us. Death is only a passage to eternal life which is very much different from the life we have here on earth.
Our concern and focus should be to live a life worthy of our faith and to remain steadfast in following Jesus, so that when we die, we shall die in Him and our resurrection will be unto eternal life. If we life for Him here on earth and die in defense of our faith in Him, He will welcome us into paradise where all our tears, sorrows and pain here on earth shall be wiped away and we shall see Him as He is and our joy will be unlimited.
We must live our lives here on earth with the consciousness that there is another life after this life and the life there in God's kingdom is the best, therefore, in order to enjoy it we must detach our minds and heart from the things of this world and see it as transitory so that we will not be held bound by them and lose focus of where we are going.
We must always be ready to defend our faith in Christ at all cost even to the shedding of our blood. However, if we die in the course of our professing Christ we must be rest assured that we shall rise again with a body that will never perish to be with Him in His kingdom. This should be our faith always and Jesus has said it and He will never deceive us. Heaven is our final destination and we must work for it by living a holy life and also prepare to suffer and die for the sake of Christ, but in the end we shall rise to see Him as He is and reign with Him in paradise.
Good morning dearest one. Smile😊 as you begin your day and do have a glorious Sunday. May God's grace help you to live well here on earth so that you will rise to eternal life on the last day. Amen. *And may the Almighty God bless you: the Father and the Son and the Holy Spirit. Amen.
Meditation: 2 Maccabees 7:1-2,9-14/Psalm 17:1,5-6,8,15/2 Thessalonians 2:16-3:5/Luke 20:27-38
Watch-Word: When I awake, O Lord, I shall be filled with the vision of your presence.
Do not lose focus why you are here on earth. Do not let the ephemeral beauty of the world make you to stop living well so as to enjoy the glorious and lasting beauty of heaven.
(32nd Sunday in the Ordinary Time, Year C)