A WORD FOR TODAY 10 OCTOBER 2019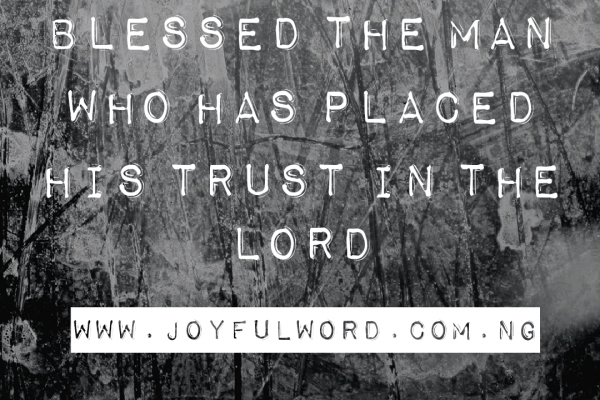 A WORD FOR TODAY
BLESSED THE MAN WHO HAS PLACED HIS TRUST IN THE LORD
When God shows us mercy, we are expected to begin to make effort not to fall into the same sin as before. We must detest it and avoid occasions that will lead us to commit it again. Our effort in overcoming our evil deeds should be sincere and determined. This will help us to cooperate with the grace of God we shall receive and become victorious.
The prophet Malachi in the first reading of today admonishes us to never take God's mercy for granted, because a time of reckoning will come. The righteous should continue to live a holy life and dont look at the prosperity of the wicked, because in the end the arrogant and wicked people who refuse to repent shall perish, but those fear the name of the Lord shall have the sun of righteousness shine upon them with healing in its wings.
Sometimes it seems that those who do evil in the world tend to make progress more than those who live upright life. God does not want the evil doers to perish, but to repent of their sins and live. This is the reason they may not be destroyed as we would judge them to be because of their wickedness. However, God does not abandon those who live a good life, their reward is always greater, because they shall become a special possession of the Lord when He appears and He will spare them on the day of reckoning.
The gospel reading of today is a reminder once again that God is willing to answer us and give us what will help us to serve Him well if we shall ask Him in prayer. He who asks will receive, He who seeks shall find and He who knocks will have the door opened for Him. God has everything we need, but we must put our trust in Him and in doing so we shall be like a tree planted beside the flowing waters that yields its fruits in due season and all that we do shall prosper.
Our aim in life always should be to keep doing God's will. If we fail or fall in the course of trying to do His will, we must rise immediately, repent of our sins and continue to seek His face. We must never take His mercy for granted. We must aim for righteousness and not allow wicked and evil people to lead us astray. God is ready to help us remain steadfast, but we must come close to Him, put our trust in Him and ask Him to give us the Holy Spirit to be with us and empower us to overcome sin and bad habits.
In prayer we can tell the Lord what we need, both spiritual and material and He can provide for us. Therefore, never give up in prayer, pray with faith and whenever you pray, be disposed to accept God's will. God will give you the strength and grace to live a holy life and to do good if you ask Him. Therefore, this is the time to draw close to Him and let Him do His work in you.
Good morning dearest one. Smile😊as you do your work and do have a wonderful day. May Jesus answer you when you call upon Him and may you never stop doing good always. Amen. *And may the Almighty God bless you: the Father and the Son and the Holy Spirit. Amen.
Meditation: Malachi 3:13-4:2/Psalm 1:1-4,6/Luke 11:5-13
Watch-Word: Ask and you will receive, seek and you will find, knock and the door will be opened for you.
To place your trust in the Lord is the surest way to be fruitful in life. He will supply you with the grace and nutrients to blossom and flourish.
(Thuraday of the 27th week in the Ordinary Time, Year 1)