A WORD FOR TODAY 10 OCTOBER 2020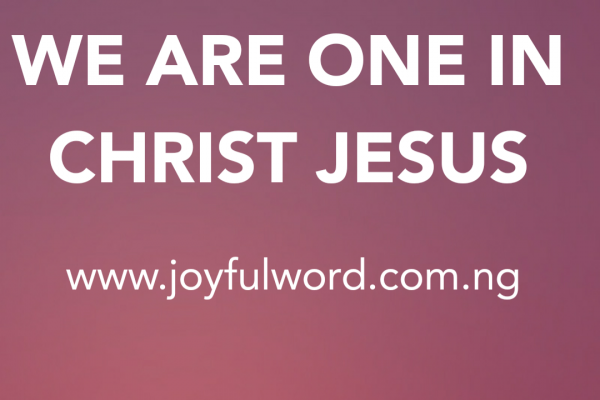 A WORD FOR TODAY
WE ARE ONE IN CHRIST JESUS
"For as many of you as were baptized into Christ have put on Christ. There is neither Jew nor Greek, there is neither slave nor free, there is neither male nor female; for you are all one in Christ Jesus.(Galatians 3:27-28)_
By virtue of our faith and baptism we have become children of God and anyone who professes Christ is our brother and sister. We are one in Him and as a result of this there should be no distinction or discrimination against anyone.
Saint Paul in the first reading of today reminds us of a very important truth which we should always try to uphold as we journey in life. We are one in Christ and we must love all and strive to welcome all. There is no need for us to look down on people or discriminate against them because of their language or tribe or ethnic identity.
Infact, what we see among us, in the Church and society is different from what saint Paul is proposing. We fight and quarrel and try to segregate and also see ourselves as the best and favoured and others as those who have no place in God's kingdom.
However, if we truly love God and profess His name, we must let that love move us to love everyone, because we all belong to God. We should never discriminate or promote the things that will divide us, rather, we should give love and let the people who come in contact with us to see God in us.
If we recognise our oneness in Christ, we must avoid anything that will make anyone around us to suffer or feel rejected as a result of our words or actions. We must show them love and be the face of Jesus to them.
This is the truth and if we love God, we must be ready do His will. The will of the Lord is that all will be saved. Therefore, live a good life, love everyone and encourage them to be the best they can be for God. You are blessed when you hear the word of God and keep it._
Good morning dearest one. Smile😊as you do your work and do have a lovely weekend. May Jesus help you to love others as He has loved you. Amen. And may the Almighty God bless you: the Father and the Son and the Holy Spirit. Amen.
Meditation: Galatians 3:22-29/Psalm 105:2-7/Luke 11:27-28
Watch-Word: Blessed are those who hear the Word of God, and keep it.
Never look down on anyone. Love all and work for peace and unity at all times for we are one in Christ.*
(Saturday of the Twenty Seventh week in the ordinary time, year II)