A WORD FOR TODAY 11 DECEMBER 2019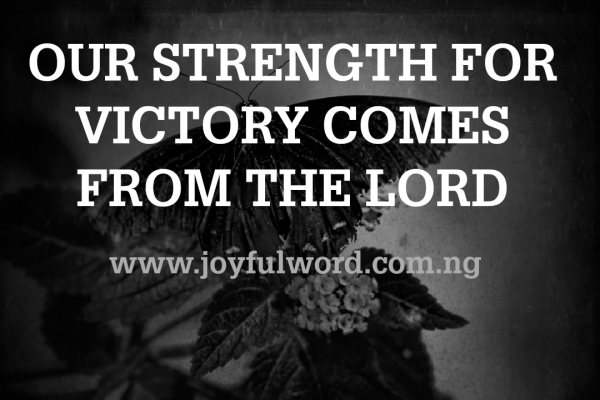 A WORD FOR TODAY
OUR STRENGTH FOR VICTORY COMES FROM THE LORD
The words of the prophet Isaiah in the first reading of today are encouraging and inspiring. He made the people to know that the source of the strength of those who trust in the Lord is God Himself and He will renew the strength of those who wait upon Him._
To wait upon the Lord is to draw close to Him and to place oneself in His hands. It means to totally submit yourself and all that you do to Him and to let His will be done in your life. We are confronted with a lot of challenges in this journey of life and in following Jesus we must carry our cross, therefore, if we intend to be victorious in the end and get to our final destination as winners, we must let Jesus walk with us and be our guide.
When we journey alone in this life without God we shall fail, but when we walk with the Lord, we shall succeed. Our strength for victory comes from the lord. He does not abandon those who put their trust in Him. He gives us the strength to overcome and if we remain in Him and hold Him firmly, we must surely overcome.
Our Lord Jesus Christ gives us invitation to come to Him so that we shall find the rest we need. We carry a lot of burdens in our heart and sometimes it gets so heavy upon us even to breaking point. We must never forget that we cannot do it alone. We need God's grace and help to succeed. The Lord's yoke is easy and His burden is light, learn from Him and you will definitely conquer all that the world throws at you by way of challenges and difficulties.
I do not know what your challenges are at the moment, it may be health, financial, academic, emotional, family issues, infertility, disappointment in securing a job or even getting married, weakness in prayer, lack of faith and commitment to the things of God and so on. Whatever your challenge or difficulties may be, you should draw closer to the Lord and place yourself in His hands for He will definitely help you to conquer all. Our victory comes from Him and He will not abandon you if you trust Him with your whole heart.
The cross you carry will be light if you let the Lord walk with you and help you. He will not carry the cross for you, but He will give you the inner strength to persevere till the end. He will renew your energy when you get tired and He will make you see reasons to push further until you get to the finishing line, because He who gives up will never be a winner.
Our Lord Jesus is waiting for us to give us rest. The invitation is free for all. Do not carry your burden alone. Do not remain where you have fallen, come to Him and recharge your spiritual energy and you will rise again to complete the journey you have started. In Him our strength and victory is assured, for our help must surely come from Him who made heaven and earth. Cry no more, fear no more, because you have a God who can help you conquer what is chasing you, just call upon Him in your prayers and stay close to Him, you will renew your stength and you will be able to mount up your wings like the eagle, run and not be weary, walk and not get tired.
Good morning dearest one. Smile😊as you do your work and do have a glorious day. May Jesus draw near to you and help you overcome the challenges you face at the moment. Amen. And may the Almighty God bless you: the Father and the Son and the Holy Spirit. Amen.
Meditation: Isaiah 40:25-31/Psalm 103:1-4,8,10/Matthew 11:28-30
Watch-Word: Come to me, all who labour and are heavy laden, and I will give you rest.
Why let your burden crush you, when you have Jesus who can help you overcome. Come to Him today and you will find the help you need.
(Wednesday of the Second Week of Advent, Year A)