A WORD FOR TODAY 11 FEBRUARY 2020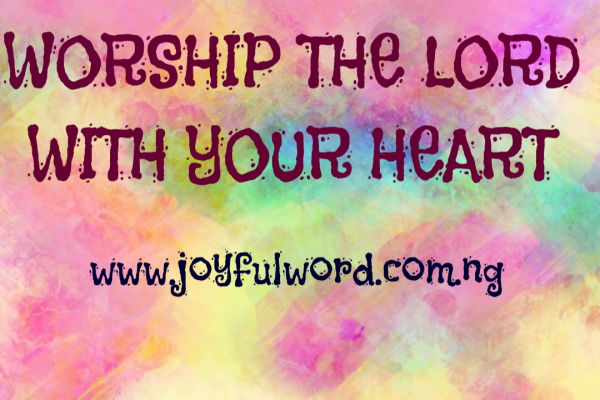 A WORD FOR TODAY
WORSHIP THE LORD WITH YOUR HEART
If there is anything that pleases the lord, it will be to see His children come to His presence and worship Him from their heart and not just their lips. God is happy when we speak to Him from our innermost heart and when we are honest and sincere with the words we speak in our prayers.
In the first reading of today we see the prayer of Solomon to the Lord in the temple. It is indeed a prayer that flowed from His heart and not just from his lips. He worshipped the Lord in the temple and asked Him to hear the prayers and supplication His children will offer in His house.
A worship that flows from the heart is acceptable before the Lord because it is not hypocritical, but real and sincere. God knows when we worship Him from the heart and when we just speak with our lips, but we do not even believe what we say._
A worship of God from the heart is pure, sincere, genuine, enriching and more importantly an expression of true love. It goes beyond the merging of external rites and ritual. It is something much more deeper and intense. We cannot claim to be true disciples of Jesus if we are fake when it comes to worshipping Him. If our worship to God does not happen in spirit and in truth it will amount to mere externalism and playing to the gallery.
We can show off and make people see us as Christians, but in the real sense we are not, because we tend to obey the ritual of our traditions more than the commandments of God. God looks at our heart and if we are going to give Him a worship, praise and adoration He will accept, it has to flow from our heart and not just mechanically from our lips.
Good morning dearest one. Smile😊as you do your work and do have a splendid day. May God's Spirit move you to worship Him from the depth of your heart and may you find answers when you call upon His name. Amen. And may the Almighty God bless you: the Father and the Son and the Holy Spirit. Amen.
Meditation:1 Kings 8:22-23,27-30/Psalm 84:3-5,10-11/Mark 7:1-13
Watch-Word: How lovely is your dwelling place, O Lord of hosts.
Speak to the Lord from your heart and worship Him in His temple and you will receive uncountable blessings.
(Tuesday of the fifth week in the Ordinary Time, Year, II)