A WORD FOR TODAY 11 JULY 2019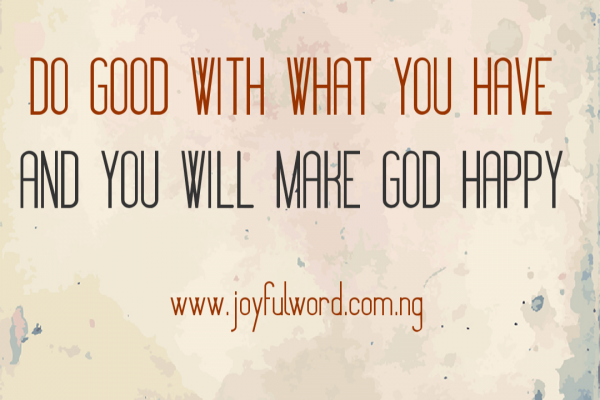 A WORD FOR TODAY
God can never make a mistake and if we understand this, it will help us to know that everything that happens in our lives whether good or bad has a purpose. When Joseph was being treated badly he may not have known why God allowed it to happen and his brothers actually did not know what God's plan were, but in the end they saw that God allowed everything tha happened for their own good.
There is need for us as followers of Jesus to stay calm and place our trust in God even when we suffer or pass through tribulations, because God may have a different plan all together from what we desire. We must submit to Him and let His will be done in our lives.
Joseph did good to his brothers even when they did him a lot of harm. He forgave them and became a channel of healing and salvation for them. His suffering in the hands of his brothers was for the greater good of saving not just his family, but for the entire land of Egypt, the entire world and to preserve the lives of those who would have perished because of the severe famine in the land.
Jesus is calling us to make ourselves available to go on mission for Him. We will proclaim His name and God's kingdom. We will heal the sick, raise the dead, cleanse lepers and cast out demons. However, we must depend on God who will provide for us and help us to carry out this task in a manner that will be pleasing to Him. We have received so much without pay and we must give without pay.
We must reach out to people and help them as much as we can with what God has given to us without expecting any favour in return. We can do so much good if we let ourselves to be moved by the Spirit of God to do good to others. God can use you to save lives and that should be your daily desire, because the good you do now with the opportunity you get will count for you in the end in the sight of the Lord. You may be passing through difficult times now, but with God your sorrow shall be turned into joy. Therefore, never abandon God for any other gods, hold unto Him firmly with faith and you will see everything turn around for your good.
Today we celebrate the memorial of saint Benedict. He lived a life of solitude and founded communities of monks and nuns and guided them in living a holy life. We pray that He will obtain for us the grace to live a good life so that we can gain eternal life.
Good morning dearest one. Smile as you do your work and do have a blessed day. May Jesus use you to put a smile on someone's face today. Amen. And may the Almighty God bless you: the Father and the Son and the Holy Spirit. Amen.
Meditation: Genesis 44:18-21,23-29;45:1-5/Psalm 105:16-17,18-19,20-21/Matthew 10:7-15
Watch-Word: Preach as you go saying, the kingdom of heaven is at hand!
God can do great things with us even in difficult times, just give yourself to Him and let Him make use of you in His own way.