A WORD FOR TODAY 11 JUNE 2019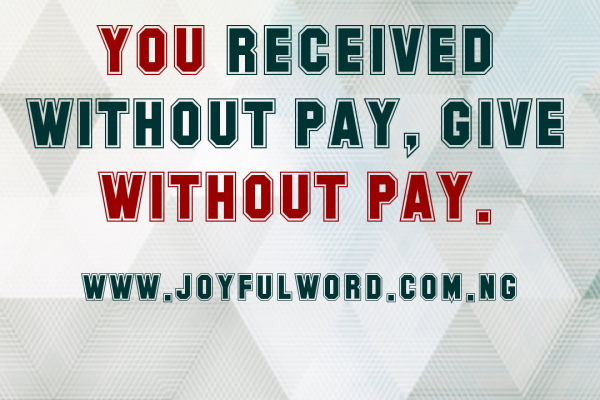 A WORD FOR TODAY
Today we Celebrate the memorial of Saint Barnabas an apostle of Jesus who after his conversion, devoted his time in serving the Lord. He spent his life and possession for Christ and the poor and he was killed for his faith.
He was given this privilege by Christ and he was sent out to go and proclaim God's kingdom. He did it so well, won many souls to God and today we celebrate him as a martyr. He has become an icon and we are encouraged to emulate his wonderful qualities as we strive to proclaim God's kingdom too.
The first reading of today states that he was a good man full of the Holy Spirit and faith and he is called the son of encouragement because of the way he was ready and willing to work with the other apostles especially with saint Paul to proclaim the word of God to the ends of the earth.
We have received the Holy Spirit and we must let Him lead us and guide us to live a good and holy life that can inspire others who encounter us to come and follow Jesus. The Holy Spirit will help us to be good if we let Him and He will use us to do great things in the Church.
Jesus has given us power and authority to proclaim God's kingdom as recorded in the gospel reading of today. We do not have any excuse why we should not carry out this task, because God will provide for all we need to do it well. We must go out everywhere to let the whole world know through our word and actions that salvation comes for God.
God can use you to add more numbers to His disciples, if you let Him. Give Him a chance and He will take possession of your heart and through you He will touch and win more souls into His kingdom. Freely you have received from the Lord and freely you must give to others as you have received.
Good morning dearest one. Smile😊as you do your work and do have a splendid. May the Holy Spirit move you to go out and proclaim God's kingdom. Amen. And may the Almighty God bless you: the Father and the Son and the Holy Spirit. Amen.
Meditation: Acts 11:21-26;13:1-3/Psalm 98:1-6/Matthew 10:7-13
Watch-Word: Preach as you go saying, the kingdom of heaven is at hand.
The owner of the vineyard is God and we are instruments in His hand, allow Him to use you to win souls for Himself.