A WORD FOR TODAY 11 MAY 2020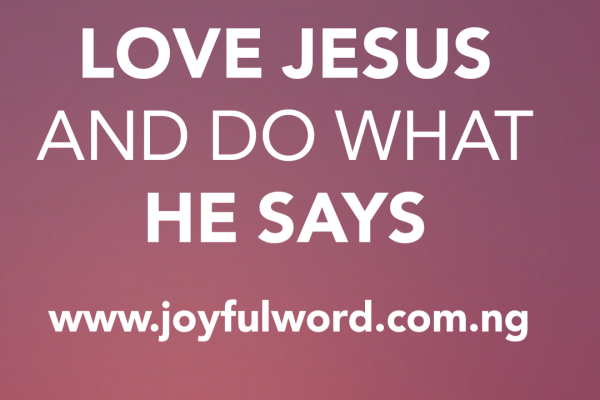 A WORD FOR TODAY
LOVE JESUS AND DO WHAT HE SAYS
"Jesus answered him, If a man loves me, he will keep my word, and my Father will love him, and we will come to him and make our home with him." (John 14:23)
When it comes to issues of love, the person who claims to love another must definitely have a proof to show for it. If you claim to love someone, there is something you must show to prove that your love for the person is not just a lip service, but something that comes from the depth of your heart.
For our Lord Jesus Christ, the proof of His love for us is clearly seen in His laying down His life as a ransom for our redemption. He was wounded for our transgression and He was killed for our freedom. In his body we find the marks of true love and it is something that is indelible in the hearts of those who believe in Him.
In the gospel reading of today, Jesus presents us with the criteria by which we will prove that we love Him. If we truly love Him as we claim most times, we must be ready to keep His commandments and to do what He says. This alone is enough to prove to Him that we love Him.
If we truly love God we must make sincere, honest and practical effort everyday to do what He wills. We must keep His commandment which is summed up in love. We must love our neighbour as we love ourselves and we must do good always to others. When we show Jesus that we truly love Him by doing what He wants, the blessed Trinity will come to dwell in us and from us the glory of God the Father, God the Son and God the Holy Spirit will be revealed.
Paul and Barnabas loved Jesus and they chose to do His will by going out to proclaim the Good News. Even when they faced rejection in the city Iconium, they hurriedly went to Lystra and Derbe and continued to proclaim the name of Jesus. They were humble not to take glory for what the Lord has done through them by healing the cripple. This is truly what it means to love God, we must acknowledge His power and glory and give all praise to Him at all times. We must make ourselves vessels of honour in His hands so that He can use us and win souls for Himself. When you truly love someone, you must be ready to go the extra mile to show it through the things you do for the sake of the love you have for the person.
Show your love for Jesus in action by doing what He says. His commandments are not burdensome, but it will help us to find eternal life. If you love Jesus, the Father and the Holy Spirit will love you and will come to dwell in your heart. They will help you in your needs and you will be a blessing to those who come to you.
Good morning dearest one. Smile😊 as you do your work day and do have blessed new week. May Jesus help you to prove your love for Him by doing what He says. Amen. And may the Almighty God bless you: the Father and the Son and the Holy Spirit. Amen.
Meditation: Acts 14:5-18/Psalm 115:1-4,15-16/John 14:21-26
Watch-Word: Not to us, O Lord, but to your name give the glory.
Go the extra mile for God in love and you will have the Trinity come to dwell in the home of your heart and bless you everyday.
(Monday of the Fifth Week of Easter. Cycle A)