A WORD FOR TODAY 11 OCTOBER 2020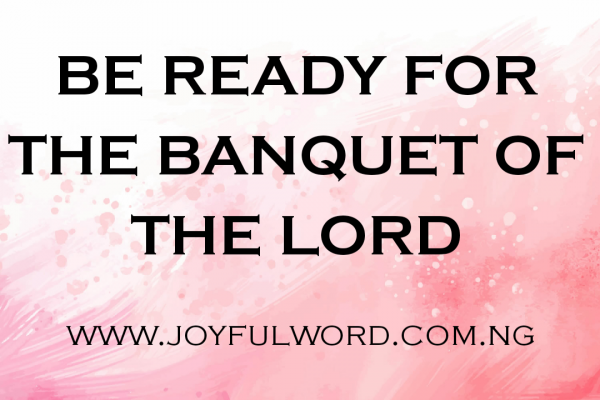 A WORD FOR TODAY
BE READY FOR THE BANQUET OF THE LORD
"The kingdom of heaven may be compared to a king who gave a marriage feast for his son, and sent his servants to call those who were invited to the marriage feast; but they would not come."(Matthew 22:2-3)_
One thing that will make someone to be unhappy in life is to miss opportunities that would have brought immense benefits to him or her. This happens when you find out that what you rejected to settle for something else is actually the real thing and the best thing that could have happened to you.
In the gospel reading of today Jesus presents us yet with another parable about the kingdom of God. The King gave a marriage feast for his Son and invitation was sent out, but those invited failed to show up. He had to throw the wedding feast open for everyone and many who never thought they could be admitted into feast now had thd opportunity to attend._
The gospel reading could be said to be connected to the first reading where the prophet Isaiah tells us that that the Lord of hosts is preparing a feast for his children on the mountain.
*The Meaning of the Mountain*
* Dictionary meaning: the mountain is a large mass of earth rising above the surrounding terrain.
* The mountain that is referred to in this passage is not physical, but symbolises the presence of God.
# Moses stayed on the mountain 40 days and nights to encounter the Lord (Exodus 24:18)
# On mount Zion there shall be deliverance and the children of God shall possess their possession.(Obadiah 1:17)
# In the last days the mountain of the Lord shall be established as the highest of the mountain....Come let us go the mountain of the Lord.(Micah 4:1-2)
# Jesus Christ taught and prayed on the mountain. (Matthew 5: 1-12/14:23)
_God can never run out of supply and if we are going to be happy in this life, we must be ready and prepared so as to be admitted into His baquet on the last day._
LESSONS TO LEARN
_1. God is preparing a great banquet for us in His kingdom. In the ancient times, only kings could give great banquets(Esther 1:1-8/Daniel 5. However, God's own banquet will be super abundanlty rich and beautiful in splendour than those of the earthly Kings._
_*2. God's invitation to come to the banquet is for all, nobody is excluded, except those who out of their own volition choose not to attend.*_
_3. Many are called but few are chosen. Strive to be among the chosen ones through what you do. For you to be chosen you must value heaven more than money, business, status, positions, party affiliations and everything worldly and material. You must let your love for God be supreme, sacrosanct and uncompromising._
_*4. The wedding garment is love and goodness. If you will be admitted, you must live a holy and good life here on earth. (Matthew 25: 34-40) should be your daily guide as you journey on earth. Is your wedding garment soiled, stained or destroyed? Strive to get a new one before it will be too late. We need to put on the garment of expectation, humility, faith, reverence and affection for God.*_
_5. The banquet of the Lord is a joyous one and if you fail to attend, you will definitely be sad. Make the decision not to miss it. Start today to fix your life so that you will be admitted. Do not be busy making a living and in the end you will fail to make it to eternal life._
6. _*The secret of how to prepare for the etetnal banquet has been given to us by God. Therefore, Live well for Him now, do His will and you will be ready when the time comes to be admitted into the joy of eternal life. If you prepare well now, you will not be take unawares and When it is time you will be ready to go.*_
_Good morning dearest one. Smile😊as you begin your day and do have a wonderful Sunday. May God help you to be ready for the heavenly banquet. Amen. *And may the Almighty God bless you: the Father and the Son and the Holy Spirit. Amen.*_
*Meditation:* Isaiah 25:6-10/Psalm 23:1-6/Philippians 4:12-14,19-20/Matthew 22:1-14
*Watch-Word:* In the Lords own house shall I dwell for length of days unending.
*Waste no time anymore, dress up for the banquet of the Lord, by doing good and by loving your neighbour as yourself.*
(Twenty Eight Sunday in the Ordinary Time. Cycle A)