A WORD FOR TODAY 12 AUGUST 2019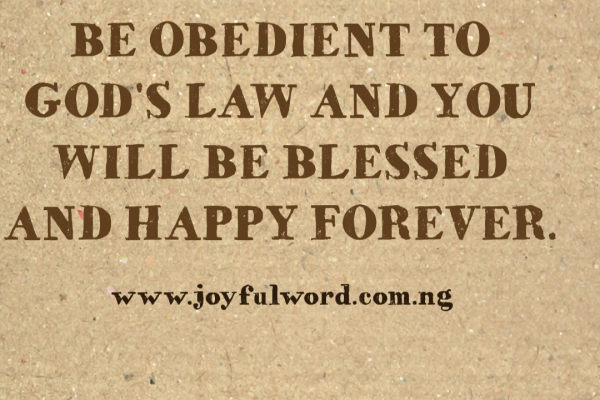 A WORD FOR TODAY
In the first reading of today Moses recounts to the people all that the Lord has done for them out of His love and He expects them to be obedient to Him and love Him with their whole heart and to serve Him steadfastly.
For us to be able to serve the Lord well we must be ready do what He commands. We must circumcise our heart and cease to be obstinate. We must submit ourselves to the Lord and let Him lead and guide us in the path of righteousness. The people of Israel forgot all that the Lord did for them and they started complaining as if the Lord has never done anything good for them. We must recount God's goodness in our lives and it will help us to praise His name and to do the things that will bring honour and not shame to His name.
If you determine to follow Jesus, you must be ready to do what He commands and it will make you not to lose the reward that is preserved for those who hearken to God's law. Jesus in the gospel reading of today obeyed the law of the people to pay the temple tax even when He is not bound to do so just to teach His disciples what obedience means.
His attitude is one that makes for peace. He is not bound to do something, but He still did in order to let peace reign and that made Him to overcome the trap the authorities wanted to set for Him through their question.
We must apply wisdom in dealing with our fellow human beings. This will help us to know what to do at all times and to be able to obey the law of the land without offending God who has created us. Jesus is teaching us also to be law abiding citizens who will contribute their own quota in building up a great nation.
When you discern that someone has come to cause trouble for you through his words or actions, do not fight the person, instead, use wisdom to calm him or her down and then there will be peace. Always be ready to make sacrifices that will promote peace, bring glory to God and inspire good behaviour in the heart of others. We must be responsible citizens of this earth and heaven and it is only in obedience to God's law and the constituted law of the state that it will be shown.
Good morning dearest one. Smile😊as you do your work and do have a blessed new week. May your obedience to God's law bring you victory over the forces that may work against your good. Amen. *And may the Almighty God bless you: the Father and the Son and the Holy Spirit. Amen.
Meditation: Deuteronomy 10:12-22/Psalm 147:12-15,19-20/Matthew 17:22-27
Watch-Word: Serve the Lord your God with all your heart.
Obedience to Lord's command is the sure way to be blessed and be happy. Be a responsible and law abiding citizen of heaven and earth.