A WORD FOR TODAY 12 FEBRUARY 2020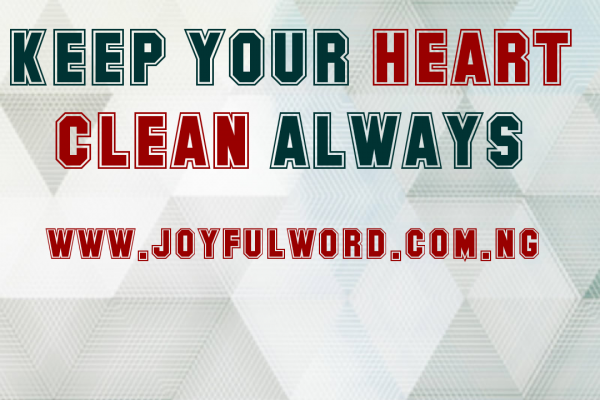 A WORD FOR TODAY
KEEP YOUR HEART CLEAN ALWAYS
You do not know any person well until they open their mouth to speak and tell you what is in their mind. Infact, you can easily make an assessment of an individual based on what they say and how their thoughts flow._
The mouth is only a channel through which what has been conceived in the mind is made known to others in an audible way. When the heart if filled with evil, the mouth will definitely speak evil, but when our heart is filled with good and noble things, our mouth will also speak good not evil.
If you want to be free from sickness, you must keep your home and environment clean. You must improve on your personal hygiene and also in your cleanliness. This will help you to build up your immune system which will help you to fight germs that may attack your body. Fill your heart with God's word and your mouth will speak of God's goodness and glory.
Our soul need to be happy always, and for that to happen we must strive to be good and to do good things. We must fill our heart with good and holy things and when we open our mouth to speak, we shall speak words that will edify and not that which will cause scandal.
Evil is 'toxic' and when we pour it out on our lips it could also be 'deadly'. If we must overcome evil in our heart, we must develop the attitude of consciously making effort to purge ourselves of sin and sinful habits through the sacrament of reconciliation and a firm resolve not to do evil again. We must discipline ourselves, if we must become good and speak good also.
Good morning dearest one. Smile😊as you do your work and do have a fantastic day. May Jesus help you to make sincere effort to be pure in heart so that your lips will speak goodness and not evil. Amen. And may the Almighty God bless you: the Father and the Son and the Holy Spirit. Amen.
Meditation: 1 Kings 10:1-10/Psalm 37:5-6,30-31,39-40/Mark 7:14-23
Watch-Word: Your word, O Lord is truth; sanctify us in the truth.
Fill your heart with the things of the Spirit and you will not gratify the desires of the flesh.
(Wednesday of the fifth week in the Ordinary Time, Year II)