A WORD FOR TODAY 12 MARCH 2020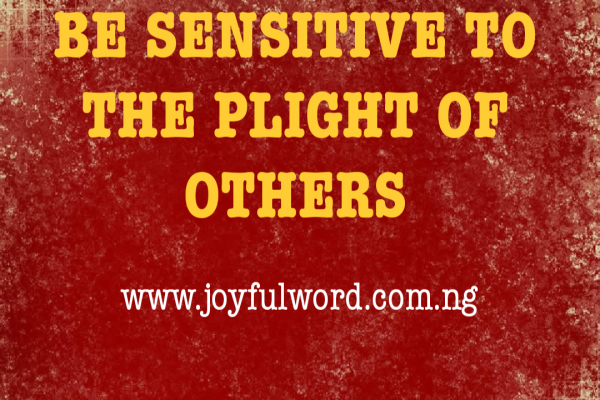 A WORD FOR TODAY
BE SENSITIVE TO THE PLIGHT OF OTHERS
Sometimes in life people experience pain, sadness and various forms of difficulties, not as a result of any sin they have committed, but just as God wants it. Some may be poor and in need, not because they did not work hard, but it is just the way that life has made it for them, some may also be rich and live in affluence.
The story of the rich man and Lazarus as we have recorded in the gospel reading of today is one that speaks to our heart of the need to help others who are poor and in need, because that will please God and it will help us to have access to God's kingdom on the last day.
The rich man's sin is not that he chased Lazarus away from his house, but that he was insensitive to his situation and could not do anything to help him. He closed his eyes when it mattered most for him to open it and see the need in the life of Lazarus and do something to help.
To be insensitive to the suffering and pain of others is sinful and God will not be happy with us when we exhibit such attitude. We see a lot of things daily that calls our attention for help, if we do, we shall bring glory to God, but if we fail to do something we will simply be closing the door of heaven for ourselves.
The poor and the needy will always be around us and we are expected to notice them and do something to help them no matter how little. Everything is not about money, you can share a smile with them and give then some words of comfort and encouragement. Do not let a poor and needy person pass you by without getting something from you. Whatever you do to help them and alleviate their situation by putting a smile on their face will help to open the door of heaven for you on the last day._
Good morning dearest one. Smile😊as you do your work and do have a wonderful day. May Jesus give you the grace to be sensitive to the needs of others and in so doing may you bring glory to His name. Amen. And may the Almighty God bless you: the Father and the Son and the Son and the Holy Spirit. Amen.
Meditation: Jeremiah 17:5-10/Psalm 1:1-4/Luke 16:19-31
Watch-Word: Blessed the man who has placed His trust in the Lord.
Do not refuse to help the needy, because God helps you when you are in need and call upon Him.
(Thursday of the Second week of Lent, Day 14)